Kindle Touch vs Nook Touch and Sony Reader PRS-T1 (Video)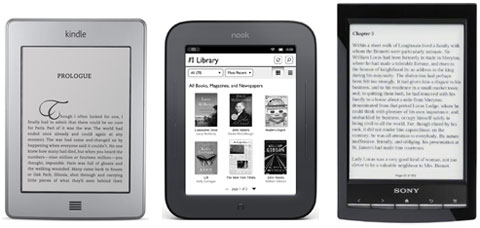 For this review I'm going to compare the Kindle Touch with the Nook Touch and Sony Reader PRS-T1. I've already compared the Nook and Sony head-to-head, both stock and rooted, so this review is going to focus on comparing each of them with the Kindle Touch specifically.
On the surface all three ebook reader are very similar. They have the same 6″ E Ink Pearl displays and the same infrared touchscreens. When you start to analyze their features, however, they are all very different. Each one offers advantages the others do not.
Before we begin, here's the links to the individual reviews for more complete details on each of them for further reference:
Kindle Touch vs Nook Touch
Kindle Touch Advantages
Nook Touch Advantages
Kindle Touch vs Sony Reader PRS-T1
Kindle Touch Advantages
Sony PRS-T1 Advantages
Video Review: Kindle Touch vs Nook Touch and Sony PRS-T1