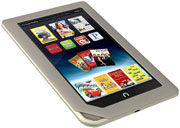 The Barnes and Noble Nook Tablet is on sale today only via Barnes and Noble's eBay store for $199 when you use code CNOOKDEAL during checkout (update: they changed it so you don't have to enter the code, and it looks like the deal is continuing into Friday). That's $50 off the regular price of $249. And it is new, not refurbished.
This is the best deal on the Nook Tablet to date; now is the time to pull the trigger if you want one. B&N offered $25 off earlier this month when purchased with a MasterCard, and there's also the ongoing deal for getting $50 off with a year subscription to People Magazine, but today's deal is clearly the best.
A $199 Nook Tablet is one of the top picks for a 7″ tablet, but it is locked into Barnes and Noble for all apps and books, so you either have to accept that or instead root the Nook Tablet and install the Android Market.
Custom ROMS are just about to become available as well. CM7 is very close to a public release and CM9 is getting close.
The Nook Tablet comes with 16GB of memory, Wi-Fi, a microSD card slot, a dual-core 1GHz processor, it has a 7″ 1024 x 600 IPS screen, battery life of 8 to 11.5 hours, and 1 GB of RAM.
In a head-to-head competition with the Kindle Fire, both priced at $199, the choice isn't easy. Check out my Kindle Fire vs Nook Tablet review if you need help deciding.
In other Nook news, the Nook Touch is once again available refurbished for $79 from B&N's eBay store. It had disappeared for quite a while but now it's back for those wanting to save and extra $20 over a new one.