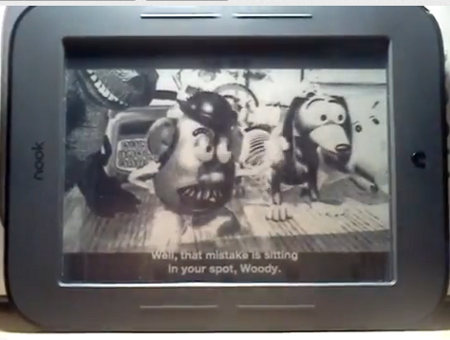 In the past I've posted about how hackers have figured out how to play videos on a Nook Touch and Kindle Touch, so this isn't anything new exactly, but I've recently come across a couple of new videos and they are too strange to pass up.
This time around we've got a couple of cartoons playing on the Kindle Touch and Nook Touch.
When comparing the two, the Nook has the edge in speed and refresh rate—the video is smoother and less jittery. Video playback is better than you'd expect, in fact. The YouTube video description says the Nook is using the RockPlayer app and NoRefresh app. So that's different than last time around when it was just playing animated Gifs using the Opera web browser.
But the problem with playing video on the Nook is that it lacks audio support so you have to use sub-titles if you want to know what the characters are saying. But at least that's technically reading, right?
Video playback on the Kindle Touch isn't as smooth as the Nook, but at least it has sound. The Kindle is using a special video player created by a developer over at MobileRead. It plays AVIs with MPEG4 video and MP3 audio.
It's always so strange to see E Ink ereaders playing video. It's like watching an old black-and-white TV.
Watching Toy Story on a Nook Touch
Watching Pluto on a Kindle Touch