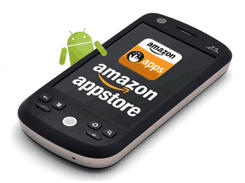 Since it first launched about a year and a half ago, the Amazon Appstore has been restricted to customers in the United States only. But not anymore.
Earlier in the week Amazon announced the expansion of their Android appstore to include several European countries—the United Kingdom, Germany, France, Italy, and Spain.
Amazon says customers can download the Amazon Appstore to their Android phones and tablets by visiting www.amazon.com/getappstore. Or you can do what I do and just download the app file directly using your Android device's web browser and hitting this App Email Link.
The Amazon Appstore is a good alternative appstore for tablets and phones that don't have access to Google Play for Android apps. The Amazon Appstore is also a good source of free apps because they give away a free paid app every single day. They have a few exclusive apps too.
Amazon's free daily app is often a game with mediocre ratings, but every once in a while Amazon gives away something good—holidays especially.
The fact that Amazon has chosen to launch their Appstore in Europe a week before they are expected to unveil a new Kindle Fire or two can only mean one thing: the Kindle Fire is coming to Europe. I wouldn't be surprised if that's going to be mentioned during the big Kindle event on September 6th.