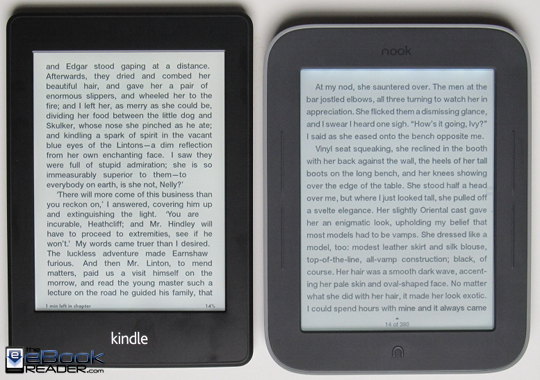 Yesterday in the Kindle Paperwhite video review there was a brief comparison of the Kindle Paperwhite and the GlowLight Nook Touch. Today I decided to put together a full comparison between the two to show the differences in screen lighting and to do a walkthrough of their main features. I also put together these lists below to highlight the similarities and advantages of each.
Kindle Paperwhite and Nook GlowLight Similarities
Both ebook readers have 6-inch E Ink screens.
Both come equipped with frontlights to better illuminate the display in lower lighting, and both offer adjustable brightness.
Same price of $119, although the Kindle comes with ads that cost an extra $20 to remove.
The homescreen layouts are similar, both offering list view and cover view with the same sort or organizing features and collections.
Both have 2GB of internal storage (about 1GB usable on the Nook, and 1.25GB on the Kindle).
Both have touchscreens (different tech, though).
Similar font choices and sizes and layout adjusting options.
Access to library ebooks.
Highlights, notes, search, dictionary look-up, sharing via Facebook and Twitter, generated table of contents, bookmarks, free cloud storage of ebooks.
Both have WiFi.
Both connect to their respective stores for content.
Similar battery life.
1 year warranty.
Kindle Paperwhite Advantages
Supports Amazon's ebooks and periodicals.
The lighting is whiter and more uniform, although not perfectly uniform.
The LED lights are more hidden and thus less distracting.
The Kindle Paperwhite uses a higher resolution screen than the Nook that makes everything appear sharper and clearer.
Support for Kindle Games and Kindle Apps.
The Kindle Paperwhite has a basic web browser for visiting web sites and downloading PRC, MOBI, and TXT ebooks (the GlowLight Nook has a hidden web browser and there's a reason it was hidden—it's terrible).
X-Ray feature analyzes a book's contents with references from Wikipedia and Shelfari.
Reading progress feature analyzes reading time and estimates how long it will take you to finish a chapter and the whole book.
Landscape mode.
Can set different dictionaries.
Better PDF support, but neither device is very good in that regard.
The ads (Special Offers) aren't all bad; you get coupon deals otherwise unavailable, and sometimes free credit to spend at Amazon.
Optional free 3G wireless (works for Amazon, Wikipedia, and Shelfari).
View popular highlights and public notes other readers have left in the book.
Annotations backup.
Partial page refresh can be turned on and off.
Contrast darken feature for PDFs.
Search Wikipedia from an ebook.
Borrow 1 free ebook per month for Prime Members.
Supports multiple languages: English, German, Spanish, French, Italian, Chinese, and Portuguese.
Highlight words and paragraphs in ebooks to get translations into dozens of languages using Bing Translator.
Send to Kindle apps and email address makes emailing ebooks and documents to the Kindle Paperwhite easy.
Can have ebooks from public libraries wirelessly delivered (Nook has to transfer via USB).
Kindle Panel View for comics and manga (I've yet to see this actually work yet, however).
Optional auto-wake, auto-sleep cover accessory.
Thinner design.
Nook Touch with GlowLight Advantages
Supports B&N's ebooks and periodicals as well as ebooks with Adobe DRM sold from a wide selection of ebook stores.
Supports the most widely used format: EPUB.
The Nook has a microSD card slot and supports cards up to 32GB.
The frontlight can be turned off (the light stays on ever so slightly on the Kindle Paperwhite even at the lowest setting).
Physical buttons: there's an "n" button that brings up a menu and turns the GlowLight on and off, and buttons on each side for turning pages.
Can fast scan through pages by holding the page buttons down.
The GlowLight Nook Touch can be rooted to run Android apps (the Kindle app even works, among many others; in fact a good share of the advantages above for the Kindle get nullified with a rooted Nook Touch).
No screensaver ads.
Comes with USB wall charger.
From my experience the infrared touchscreen is slightly more responsive than the Kindle Paperwhite's capacitive screen; both are really good but with the Kindle I find myself having to tap things more than once to get a response occasionally.
Design is more comfortable to hold.
LendMe feature makes lending certain ebooks easy, and can be done directly from the Nook Glow itself.
Set custom screensavers.
In store customer support.
Option to set screen timeout by 2, 5, 15, and 60 minutes.
Turn on and off publisher defaults.
Free in store reading (read certain ebooks for free at Barnes and Noble stores for up to one hour a day).
Lighter by half an ounce.
Kindle Paperwhite vs GlowLight Nook Touch: Specs
Kindle Paperwhite
GlowLight Nook Touch
Screen
6-inch E Ink Pearl with Paperwhite
6-inch E Ink Pearl with GlowLight
Resolution
1024 x 758
800 x 600
Touchscreen
Capacitive
Infrared
Processor
?
800MHz TI OMAP 3
Operating System
Linux
Android
Storage
2GB, no memory card slot
2GB, microSD card slot
Wireless
WiFi, 3G optional
WiFi
Web Browser
Yes
No
Page Buttons
None
Yes, 2 both sides
File Support
AZW, PRC, MOBI,
TXT, PDF
EPUB, PDF
Audio
No
No
Battery
Up to 2 months
Up to 2 months
Weight
7.5 ounces (213 grams)
6.95 ounces (197 grams)
Dimensions
6.7″ x 4.6″ x 0.36″
6.5″ x 5″ x 0.47″
MSRP
$119 – $199
$119
Video Review: Kindle Paperwhite vs GlowLight Nook Touch