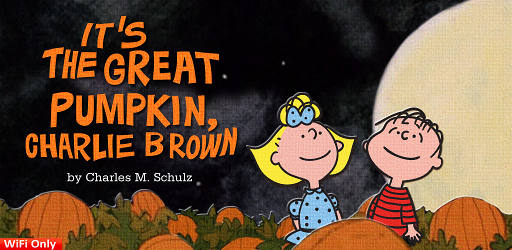 It's not very often that Amazon offers an ebook for their free paid Android app of the day, so I thought this one warranted a mention.
Today only the classic Halloween special It's the Great Pumpkin, Charlie Brown is free in interactive ebook form. Normally it sells for $3.99.
These types of interactive ebooks are really well done and are entertaining for kids and adults alike.
This particular title is narrated by Peter Robbins, the original voice of Charlie Brown, and it includes the actual voices of the characters straight from the TV show. Words get highlighted on-screen as they speak, and tapping a word speaks it aloud. Narration can be turned off as well.
The characters move and make noises when touched, and there are interactive elements on-screen. There's a tutorial for playing piano, and the soundtrack and sound effects from the TV show.
On Christmas Eve last year Amazon gave away A Charlie Brown Christmas for free, so this rounds off the holiday collection nicely.
The app weighs in as 80MB and works with Android tablets and phones running Android 2.1 and newer.