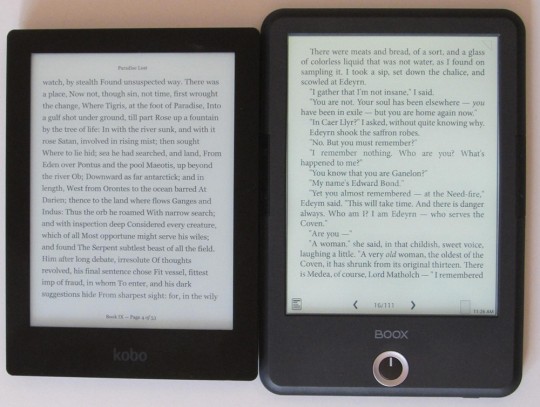 The Kobo Aura HD and Onyx Boox T68 are the only two ebook readers currently available that feature E Ink's 6.8-inch display, so a comparison review between them is needed to determine which device is better.
Unfortunately that's not going to happen. I can't definitively say that one is better than the other. Each device has some clear advantages over the other. It depends on what features are most important to you for an ereader to make that distinction.
Before doing this comparison, I thought that the newer Boox T68 would easily claim victory over the older Kobo Aura HD, but that is not the case at all. The Aura HD holds its ground well, and is in some ways better than the Boox T68.
Both devices are similar in some ways. Aside from having the same 1440 x 1080 E Ink Pearl screen, both feature frontlights and have Wi-Fi, 4GB of internal storage space, a microSD card slot, 512MB RAM, and 1GHz processors.
The picture at the top of this page shows both devices with their frontlights on at about 50%. The picture below is with the frontlights turned off.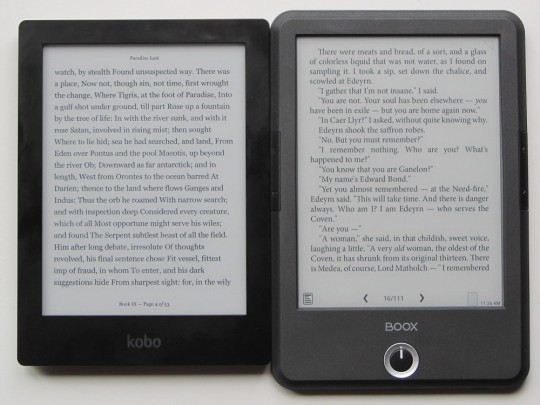 Kobo Aura HD Advantages
Text looks slightly darker and more defined on the Aura HD's screen. This is likely the result of the Aura HD using an infrared touchscreen and the Boox using a capacitive screen that adds a layer over the text.
With the frontlights on, the Kobo's screen appears noticeably whiter than the Boox T68's screen, which has a darker yellower tone.
Smoother and faster page turn transitions.
Scrolling is faster and smoother. An example is the web browser. Kobo's browser is more basic and has way less features than the browser on the Boox, but it is faster and scrolling is much smoother and less jarring—that's pretty much the story of this comparison review: the Kobo is more basic and offers less overall features but it's faster and smoother at what it does do.
Social sharing options.
Reading stats and awards.
Smaller overall size.
With the dual boot hack, the Kobo Aura HD can run Kobo's software and Android, albeit an older version of Android (2.3)
Onyx Boox T68 Lynx Advantages
The main advantage with the Boox T68 is it runs Android 4.0 and comes with Google Play to install Android apps.
With apps, it supports virtually all ebook formats, including Kindle ebooks with the Kindle app.
Can install the Kobo Android app to read Kobo's ebooks, or you could download the ePub version from Kobo and read it with the Boox's default Reader app, which supports Adobe DRM.
Supports text-to-speech.
Adds Bluetooth.
Audio support via headphone jack/Bluetooth.
It has physical page and navigation buttons.
Much better PDF support.
Thinner, more comfortable to hold design.
Conclusion
The Boox T68 is more versatile than the Kobo Aura HD. It supports more types of content in the form of Android apps, and it adds audio support, Bluetooth, and physical page and navigation buttons.
The Kobo Aura HD offers a slightly clearer and whiter screen without the capacitive touch layer, and it has a more simplistic interface that's easier to learn and use. The software isn't as advanced as Android on the Boox T68, but it's faster, more stable, and a lot less prone to crashes.
Video: Kobo Aura HD vs Onyx Boox T68