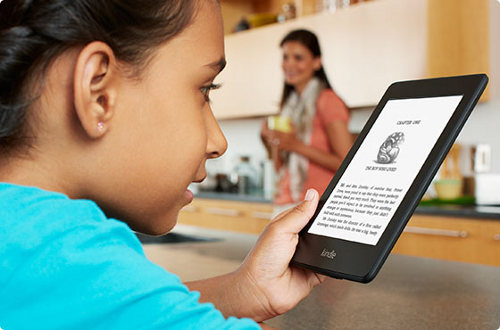 Now that two new Kindle models have leaked online, most people are paying attention to the premium Kindle Voyage, but what about the new entry-level Kindle?
Until Amazon makes an official announcement, which could be as soon as today, all we have to go off is a screenshot showing the new Kindles listed on Amazon Germany.
Amazon has offered a "basic" non-touch Kindle for the past three years alongside their more expensive touchscreen Kindles (first the Kindle Touch and now the Kindle Paperwhite). Then the basic Kindle recently went missing in the US, and Amazon even removed it from the Kindle advertisement stripe along the top of the page last week.
That makes sense now with a new entry-level Kindle appearing. The biggest detail about it so far is the fact it will have a touchscreen (not everyone will be happy with that).
The leaked listing indicates that it will have a 6-inch screen, Wi-Fi, and it will feature a touchscreen. The entry says "Touchscreen ohne Spiegeleffekte", which Google translates to "touch screen without mirror effects".
The only other detail the listing gives is a release date of October 2nd, two weeks from tomorrow, along with a price of 59 euros. It's hard to say what the price will be in dollars. 59 euros equates to about $76.50 US, but the European price includes VAT, so the US price should be even lower than that.
Any other details about the new entry-level Kindle are speculation at this point. It will be interesting to see what features it has. Will there be a frontlight? Probably not for that price.
With a touchscreen interface, it will be entirely different from the old basic Kindle. It's safe to assume the software will be a lot like the current Kindle Paperwhite. And the hardware will likely be similar too, minus the frontlight. It will be interesting to see what kind of screen it has, what the resolution is and if it has a Carta or Pearl display.
What features do you think the new entry-level Kindle will have?