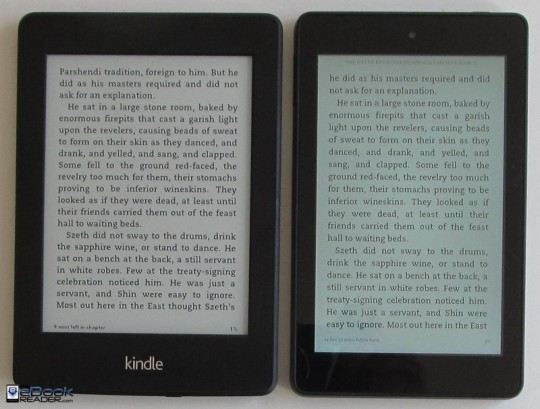 Now that Amazon has released the Fire HD 6 tablet, I thought it would be interesting to compare it with the Kindle Paperwhite ebook reader.
Even though both devices have 6-inch screens and offer content from Amazon's ecosystem, they are two very different devices. The Kindle Paperwhite is designed for reading ebooks, and the Fire HD 6 is designed for playing videos, music, audiobooks, video games and a lot more than just ebooks.
The Fire HD 6 is a much more advanced type of device overall than the Kindle Paperwhite. That's why it's rather odd to see it priced $20 less than the Paperwhite. But that's how the economics generally work out between ebook readers and tablets: E Ink screens are much more costly than LCD screens, and when it comes right down to it the screen is the biggest difference between these two devices.
Hardware Differences Between Paperwhite and Fire HD
Screen: The Kindle Paperwhite has a 6-inch E Ink Carta screen with a resolution of 1024 x 758. The Fire HD 6 has a 6-inch IPS LCD screen with a resolution of 1280 x 800. Even though both are 6-inch screens, the aspect ratio is different, so it works the Fire HD 6's 16:10 screen is taller and narrower than the Kindle Paperwhite's 4:3 screen. Furthermore, the Paperwhite's screen is monochrome and is intended to mimic the look of ink on paper, and it includes an eye-friendly frontlight, whereas the Fire HD 6's screen offers full color and a much brighter backlight.
Battery: One of the benefits of E Ink is long battery life. The Paperwhite's battery can last up to 8 weeks; the Fire HD 6's battery lasts 7-8 hours.
Processors: E Ink uses different kinds of processors so comparing them with a tablet's processor is pointless. The bottom line is tablets are always faster than E Ink ebook readers, mainly because of the slow refresh rate of E Ink.
Cameras: The Fire HD 6 has front and rear cameras.
Bluetooth: Fire tablets all have Bluetooth, E Ink Kindles do not.
Storage Space: E Ink Kindles come with 4GB of storage space; Fire HD tablets have the option of 8GB and 16GB. None have memory card slots.
Audio: The Fire HD 6 has a speaker, headphone jack, and Bluetooth for audio. The Kindle Paperwhite doesn't support audio.
Size and Weight: The Kindle Paperwhite is lighter and thinner, but the Fire HD 6 feels smaller in hand because of the narrower profile. Fire HD 6: 169 X 103 X 10.7 mm, weighs 290 grams; Kindle Paperwhite: 169 x 117 x 9.1 mm, weighs 206 grams.
Software Differences Between Paperwhite and Fire HD 6
The software between the Kindle Paperwhite and Fire HD 6 is very different. The Fire HD 6 runs a modified version of Android; the Paperwhite runs a custom version of Linux. Obviously the Fire HD 6 can do a lot more from a software standpoint than the Paperwhite.
When it comes to reading Kindle ebooks, both device offer similar features. They both offer notes, highlights, search, dictionary lookup, Wikipedia reference, instant translations, X-Ray, social network sharing, collections, bookmarks, landscape mode, Goodreads integration, estimated reading speed, and automatic page syncing.
Fire HD 6 Reading Advantages
Color screen for color content, such as magazines and comics.
Adds the option of colored reading themes (white text, black background, sepia, etc).
Add multicolored highlights.
Audiobook integration for Immersion Reading.
Text to speech.
Smoother pinch-zooming with PDFs.
Much better for web reading than with the Paperwhite's "experimental" web browser.
The Fire HD 6 can install other Android reading apps, including ePub apps, Nook, Kobo, etc.
Kindle Paperwhite Reading Advantages
E Ink screen is more like a printed book, with no reflections and much better contrast in bright light than a tablet's screen.
The frontlight is dimmer and easier on the eyes than backlit LCD.
Fast page scan feature lets you skim through pages quickly.
Vocabulary builder remembers all words looked up in the dictionary to reference with flashcards.
Fast bookmarks enable you to see a bookmarked page in a second window without leaving the current page.
The Kindle Paperwhite has the option to view book information and reviews; the Fire HD 6 does not.
In-line footnotes open a popup window instead of leaving the page.
Less distractions, more reading focused than a tablet.
Conclusion: Kindle Paperwhite vs Fire HD 6
The Fire HD 6 is the more capable device overall, and it's hard to argue with the $99 starting price, but the Kindle Paperwhite offers a better reading experience for Kindle ebooks. For everything else, the Fire HD wins.
For those thinking about getting one or the other as a gift, in most cases giving a tablet as a gift is going to be more appealing to the person receiving it, unless they are hardcore readers then go with a Kindle Paperwhite or Kindle Voyage.
Note: More comparison information about Kindle ebook readers and tablets can found on the Kindle Comparison Table.
Video: Kindle Paperwhite vs Fire HD 6 Comparison