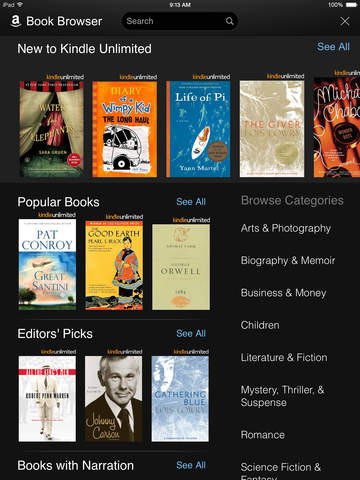 Last week Amazon updated their Kindle Android app to add some new features, and now they've just updated their iOS app for iPad and iPhone as well.
The update adds a number of new features, most notably Goodreads integration and the addition of a Book Browser, with support for downloading ebooks through Kindle Unlimited.
Ever since acquiring Goodreads, a social network for books with reviews, ratings, and recommendations, Amazon has been steadily integrating Goodreads into their software for Kindle ebook readers and Fire tablets.
Now the Kindle iOS app supports Goodreads as well. Once you setup a Goodreads account in Settings, you can share book progress, highlighted passages, rate and review books, and more.
Another notable new feature is the addition of a Book Browser available on the iPad. The Book Browser lets you view information about a book, including the product description and customer reviews. And for those subscribed to Kindle Unlimited, Amazon's ebook subscription plan, you can download ebooks and audiobooks directly from within the app.
This is a loophole of sorts that lets Amazon bypass Apple's strict revenue sharing policy. Ever since Apple made everyone pay them a portion of revenue for all in-app purchases, Amazon stopped offering any kind of ebook shopping from directly within their iOS app.
Now with the Book Browser users can at least view the description of a title and read reviews, and if subscribed to Kindle Unlimited you can download without any workarounds since you're not technically purchasing anything. New Kindle Unlimited users still have to subscribe outside of the app, of course.
Here's the complete list of new features:
Version 4.6 Change Log
Welcome experience for new customers: New customers can get started reading right away! By selecting favorite genres, rating books, and identifying books they would like to read, new customers will get personalized book sample suggestions (powered by the Goodreads recommendation engine) to download and read for free.

Book Browser (for iPad only): Using the Book Browser, customers can now view and get additional information about books. Tapping on a book cover displays a detail page that provides information about the book, including the book description and customer reviews. Kindle Unlimited members can download and read immediately.

Goodreads Integration: Goodreads customers can now share book progress, selected quotes and more from Kindle. Once connected, via "Settings/Social Networking," customers can share book progress using the new [g] button in the reader controls, share quotes by selecting text, or share that they've finished a book from the "Before You Go" screen.

Next In Series Information: Customers finishing a book in a series like A Game of Thrones can learn about the next book, A Clash of Kings, and instantly add it to their wish list from the "Before You Go" screen.

Book Detail Pages in the Library (for iPad only): By customer request, book details can now be viewed by long pressing a book cover in the library and selecting "Book Details." Customers can now see a synopsis of the book, Amazon reviews, and more.

Audible Progressive Play: Start playing audiobooks as they're downloading (no need to wait for the entire download). Audiobooks can be played once you've downloaded past your current reading location.