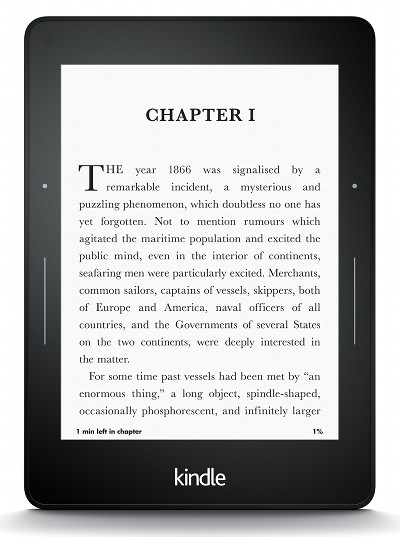 Amazon's latest Kindle was officially released on October 21st, 2014 in the United States. From that point until just recently, it has been listed as in stock at a future date, with shipping pending.
A few of the model variations have been in stock briefly now and again the past couple weeks, but the end of January finally marks the beginning of the $199 Kindle Voyage being in stock.
In fact both WiFi models with and without special offers are currently available for immediate shipment. However the 3G versions of the Kindle Voyage are listed as being in stock the first week of February.
It's taken a quarter of a year to finally get the base Kindle Voyage in stock at Amazon.com. But that's not too unusual. A similar delay followed the release of the first gen Kindle Paperwhite as well.
The stock increase is a good sign that Amazon should be able to get the ball rolling on more international releases soon. The Kindle Voyage still isn't even available in places like Canada and Australia for instance, and many other countries too.
The Kindle Voyage is Amazon's "premium" ebook reader and it offers some hardware features not available on other models. It has PagePress sensors along each side of the screen to turn pages by pressing the bezel instead of tapping the screen. They are kind of like page buttons but not really. There's also the option to set it so the Kindle gives off feedback in the form of a slight vibration when pressing the sensors.
But the thing that makes the Kindle Voyage stand out the most is the super high resolution E Ink display. It's the only dedicated ebook reader to feature a 300 ppi E Ink screen. The higher resolution makes text and images clearer and sharper, and also darker. The screen is also equipped with an adaptive frontlight that adjusts brightness automatically based on ambient lighting conditions.
There have been some complaints about the Kindle Voyage's frontlight being uneven or having different gradients or hues visible under certain conditions. I voiced complaints about the same issue myself, but over time it has become less of a distraction to me personally, and I barely notice it anymore—the key is keeping the screen brightness set low.
On a side note, there are some nice covers available for the Kindle Voyage for cheap. I just ordered a highly-rated Swees cover for $9.99 that a reader suggested on the Kindle Voyage Covers and Cases list. I'll post a review of it in a few days.
Additional info: