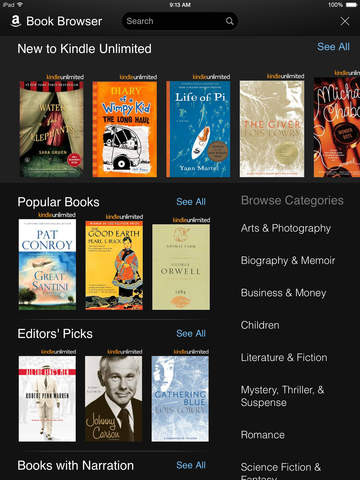 Amazon has just updated the Kindle app for iOS devices—the iPad, iPhone, and iPod Touch—to add some new features.
The new software version is 4.9, and it's a fairly major update. There are some big visual changes that Amazon claims to provide faster reading with less eye strain.
Among the changes include the added support for hyphens, which is something new for Kindle books. No other Kindle devices or apps support hyphens. It's good to see Amazon going in this direction; hopefully all devices and apps will get hyphenation support to improve layout.
Previously the only way to get Kindle ebooks to display hyphens was to use a plugin for Calibre called Hyphenate This! to recode the book.
However, hyphens only seem to be available on certain titles so far. I tested a handful of books on the iPad Air and none had any hyphens yet. Amazon says that the new features are available today on hundreds of thousands of books, and that they will be coming to all Kindle books soon.
Another new feature is the addition of Amazon's new Bookerly font, which was designed specifically for ereading on digital screens.
Here's the full changlelog for the new software:
What's New in Version 4.9

At Amazon, we've been hard at work to make reading on Kindle even better and more enjoyable. Several exciting improvements offer faster reading with less eye strain. Available today on hundreds of thousands of books, and coming soon to all Kindle books.

Faster Reading, Less Eye Strain
Hyphenation plus smoother word spacing result in faster reading with less eye strain. Improved character placement increases word recognition speed at any font size.

Beautiful Page Layout
Drop caps, text, and images that automatically adapt to always look great no matter what your screen or font size. Print-like layout dynamically adjusts for any combination of screen size and font setting.

Large Fonts, Without Compromises
Enjoy reading with larger font sizes without compromising your reading experience. Page layout and margins automatically adapt to look great with even the largest font sizes.

Bookerly – The Font for Readers
Bookerly is a new Kindle exclusive font designed for reading on digital screens. Warm and contemporary, Bookerly is inspired by the artistry of the best fonts in modern print books but is hand-crafted for optimal readability at any screen size. Bookerly is available on most Kindle books.

—-

Kindle now makes it more convenient for listeners to start or pause audiobooks with playback controls in the Library.