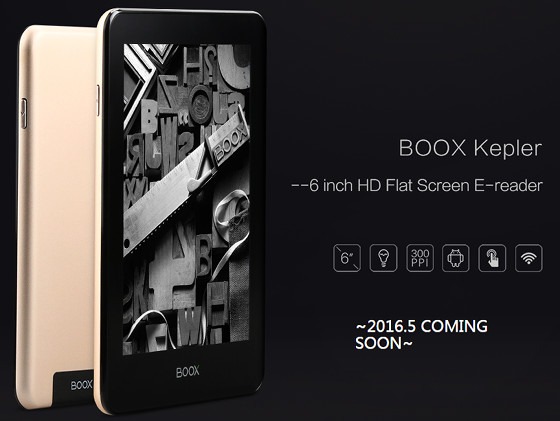 A couple days ago we got a first look at Onyx's new premium 6-inch ereader in a video demo from a trade show in Hong Kong.
Onyx also has a page for a new ereader line called the Kepler series posted on their website. There have a few different sub-models because the one shown doesn't say anything about being waterproof like the one in the video, but the design is the same.
The Kepler Pro that's listed on Onyx's website has some intriguing features. It's basically the Onyx equivalent to the Kindle Voyage.
The Kepler Pro has a 6-inch E Ink display with 300ppi and a flush glass screen. It runs open Android 4.0 and can install Android apps. It has a frontlight, WiFi, Bluetooth, a capacitive touchscreen, a 3000mAH battery, 16GB of internal storage space, and there's a microSD card slot for expansion.
It also has a metal casing and a button on each edge to turn pages, which is a bit different. The buttons seem kind of high up to be useful but it's hard to tell from a picture. Apparently there's also a lite version without side buttons.
Overall it looks like there are three models in the Boox Kepler series, the Kepler Pro, the Kepler, and the Kepler lite. We should start seeing them hit the market sometime this summer.
These will be the first 6-inch 300ppi ereaders from Onyx. They've recently updated their larger 9.7-inch ereaders for 2016 with the new N96 models, and the 13.3-inch Onyx Boox Max gets released next week. It's good to see that Onyx is still evolving their smaller ereaders too since they've mostly been releasing larger ereaders lately.