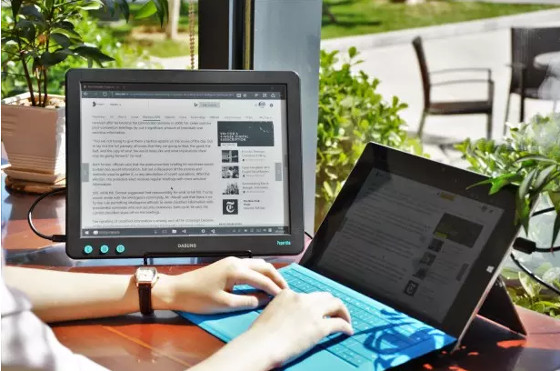 Earlier this month Dasung posted a series of YouTube videos showing their new 13.3-inch E Ink monitor doing various tasks and now we know why.
Last week Dasung launched a crowdfunding campaign on Indiegogo for their 13.3-inch Paperlike monitor.
The pre-order price for the Paperlike is $799 USD with free shipping. It's expected to ship in August 2016.
Their funding goal was oddly low so they've already surpassed it by over 450%.
They had 30 early bird monitors for $699 but they've already been claimed.
They say that the retail price of the Paperlike is going to be $995 when it gets released.
The price is a lot higher than 13.3-inch E Ink ereaders like the Onyx Boox Max, which can be had for under $700 USD. Plus it adds touchscreen support, an Android operating system, internal and expandable storage space, Bluetooth, Wi-Fi, and a bunch of other features the Paperlike lacks.
So why is the price so much higher for the Paperlike?
The Paperlike is an E Ink display with a USB cord and a stand. It has no battery, no touchscreen, no operating system, etc. It's a secondary PC monitor only.
Furthermore, the original Paperlike that first went on sale last fall used an E Ink Fina display, which is glass-based unlike the 13.3-inch plastic-based Mobius screen that the Onyx Boox Max and other ereaders come with. Obviously glass is going to be a lot more fragile and easier to break than plastic, so that's another downgrade.
Dasung conveniently neglects to mention the specific screen tech anywhere on their website or crowdfunding page, so that probably means they are still using Fina screens.
The concept of an E Ink monitor is pretty cool, especially since it's powered entirely via USB. Hopefully we start seeing more products like the Paperlike in the future. More competition and manufacturing could help drive prices down.