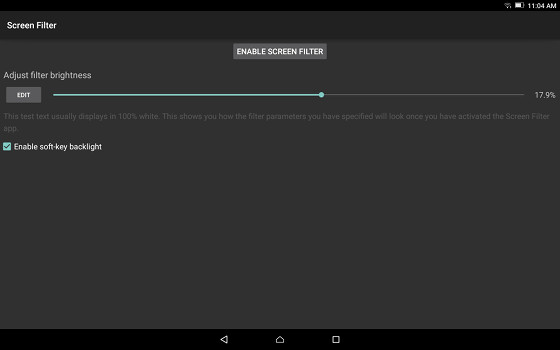 Tablets, smartphones, and LCD screens in general get a bad rap when it comes to reading and eye strain. Lots of complaints can be found about reading on LCD screens causing eye discomfort and other problems.
There are some things that you can do to make reading on tablets, phones and computers more pleasant and easier on your eyes.
The number one cause of eye strain with LCD screens is the simple fact that they are often too bright.
Lowering the brightness helps a lot to avoid eye discomfort, especially at night.
The problem with most tablets and phones is they don't have a setting dim enough for comfortable night reading.
Luckily there are a number of solutions for this. There are apps that can dim the screen beyond the factory lowest setting.
There are also blue light filtering apps that are more about blocking certain colors of light than dimming the overall screen. Personally I don't care for the visible color shift on the screen and would rather just dim the entire screen and keep colors normal, which also minimizes blue light anyway. But everyone is different so test them both and see which you like best.
Android Screen Dimming Apps
Screen Filter – This is the app that I use. It's not perfect but it is effective and easy to use. It's very simple to setup and is free.
Twilight – A very popular screen dimming and blue light filtering app. It has a lot more options and settings than the screen filter app above if you'd like more features.
Bluelight Filter for Eye Care – Another very popular blue light filter for Android with the option to setup custom schedules.
Screen Dimmer – A screen dimming app that's more complex that the basic screen filter app above. There's also a paid version with added functionality.
Lux Lite – A popular blue light filter brought to Android.
Night Mode – Another screen dimming app that is designed to reduce the screen's brightness below the normal lowest setting.
Additionally the Google Play Books app has an auto-adjusting blue light filter built-in called Night Light.
Fire tablets that run Fire OS 5 have a built-in blue light filter feature as well called Blue Shade.
iOS Screen Dimming
Apple doesn't allow the same kind of screen dimming and blue light filtering apps on iOS like the ones available on Android but there are a couple of other solutions.
A blue light filter called Night Shift was introduced with iOS 9.3.
There's also a low light filter on iOS that's hidden so deep in the settings menu that most people don't even know about it.
Dimming Computer Screens
There's a popular free program called f.lux that filters blue light from a computer's screen as evening progresses.
Another option is to just dim your computer's screen manually. It varies by model but most modern computer monitors allow you to customize the brightness settings.
I use an Acer monitor that has an eco mode setting I use during the day. It's the preset with the lowest brightness setting and it's plenty bright enough in a well-lit room. Then I switch over to a custom user mode at night that has far lower brightness.
Another thing I used to have problems with was using LCD screens at night with no other light source in the room. I noticed that my eyes don't get irritated if I have a lamp or other light on while using a computer or reading on a tablet at night in a dark room as opposed to the screen being the only light source. So if you have problems with that try turning on another light to see if it helps.