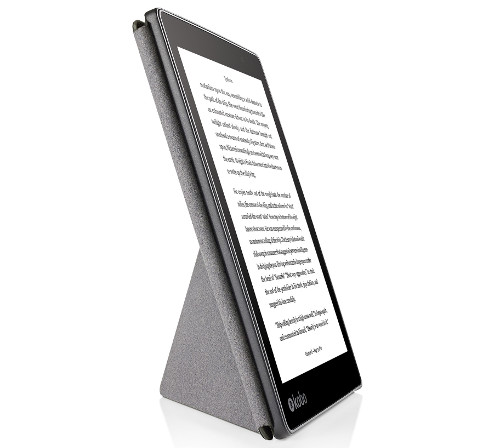 The Kobo Aura One has a number of unique features, including a 7.8-inch high-res E Ink screen, a waterproof design, and an auto-adjusting frontlight with different color temperatures to filter out blue light.
Another unique feature for the Kobo Aura One comes in the form of its official Kobo SleepCover.
The cover allows for hands-free reading by folding out the front flap into a stand.
Considering the larger size of the Kobo Aura One, having a way to use it hands-free is definitely a plus.
Covers that double as stands aren't a new concept by any means, but this is the first official Kobo cover that I can remember having a flap that folds out into a kickstand of sorts.
The cover comes with a premium price, however, and there only appears to be the one color, at least for now.
In the US the Kobo Aura One SleepCover sells for $49 and in Canada it's $59. In the UK it's £39.
The cover also has the usual automatic sleep and wake feature to turn on and off the ereader simply by opening and closing the cover.
I wonder how sturdy the stand is, though, because E Ink screens are very fragile. The pictures don't do a great job of selling it. A regular ereader or tablet strand might be a better option.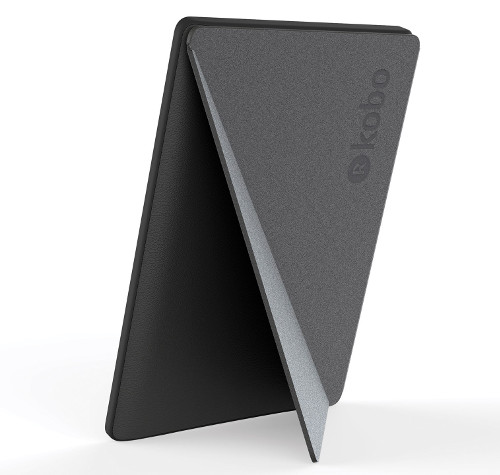 Kobo Sales
In other Kobo-related news, the Kobo Glo HD and Kobo Aura H2O are both on sale at Chapters.Indigo.
Both are $20 off the regular price. The prices are in Canadian dollars so the prices are higher than the US prices but after currency conversion it usually works out cheaper that way, even with having to pay for shipping.