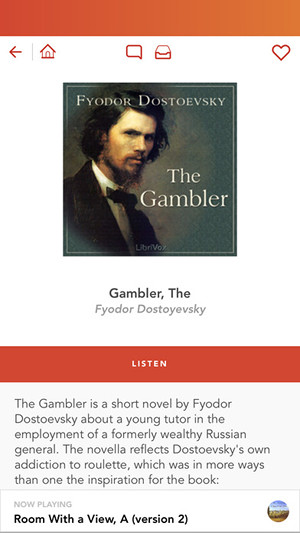 Here's a roundup of some of the best iOS audiobook apps for iPads and iPhones to compliment the list of best reading apps and best comic apps that were posted earlier this year.
Audiobooks are a good way to keep up with your reading list and favorite authors when you don't have time to sit down and read the actual book.
And sometimes it's nice to just be able to listen to an audiobook and not have to focus on reading.
There are bunch of audiobook apps for iOS devices.
Some are packed full of free classic audiobooks and others sell audiobooks directly or require a subscription.
You can also borrow audiobooks from public libraries for free with a library card, much like ebooks.
Best iOS Audiobook Apps
Audible – Owned by Amazon, Audible is the biggest name in the audiobook space. They have the widest selection of audiobooks and some can be synced together with Kindle ebooks to switch between reading and listening. Audiobooks can be purchased or accessed by subscription plans. Amazon Prime members also get access to a selection of free audiobooks and Audible Channels each month.
OverDrive – All you need is a library card from a participating public library (there are over 30,000 worldwide) and you can download audiobooks of best selling titles for free with the OverDrive app.
LibriVox Audio Books – LibriVox is a popular option for free audiobooks, with a library containing over 24,000 titles recorded by volunteers.
Audiobooks – This app boasts a selection of "thousands" of free audiobooks, along with a curated collection of podcasts.
Audiobooks.com – This audiobook app comes with a selection of 6,000 free audiobooks and over 100,000 premium audiobooks available for purchase.
Scribd – Scribd is a monthly subscription service for ebooks and audiobooks. A subscription gets you 3 books + 1 audiobook each month, along with unlimited access to a select list of books and audiobooks.
Hoopla Digital – Another app that offers audiobooks for free from public libraries, along with music, movies and ebooks. All you need is a library card from a library that supports Hoopla.
Audiobooks 7000+ – This app has a selection of over 7000 audiobooks. There seems to be multiple versions of this app under different names but the descriptions are mostly the same so whatever….
Ultimate Audiobook Library – This app contains a selection of exactly 2,947 free classic audiobooks.
Free Audiobooks HQ – This app features a selection of over 10,000 free and 100,000 premium audiobooks.