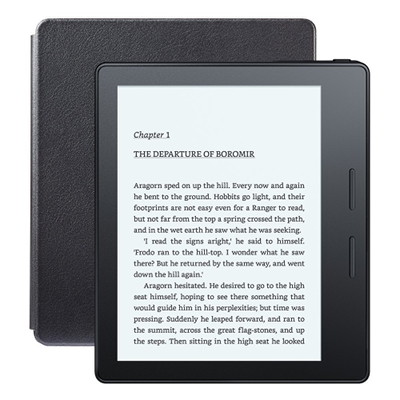 With the new 7-inch Kindle Oasis getting released this past week, the 1st gen Kindle Oasis has been relegated to the bench. Amazon doesn't even advertise it on their main Kindle page anymore, and it's been removed from all the Kindle banners and comparison tables.
But now the 1st gen Kindle Oasis is as cheap as it's even been. Amazon just knocked $30 off the regular price of the certified refurbished Kindle Oasis, taking the price down to $199.
It's the Wi-Fi special offers version that normally sells for $289 new.
It comes with a charging cover too, and the same one year warranty as new ones. The cover is only available in black, however, and if you don't want to see any ads it costs an extra $20 to remove them.
You can get a brand new 2nd gen Kindle Oasis for $249, and it comes with a few upgrades in addition to the larger screen, including more storage space, an auto-adjusting frontlight, waterproofing, and Bluetooth to listen to Audible audiobooks, although Amazon says they'll be adding Audible support to the 1st gen Oasis too in the upcoming months.
The original Kindle Oasis has some advantages of it's own as well. It's smaller and lighter with the 6-inch screen, and it comes with a leather cover that has to be purchased separately with the new Oasis for an extra $59.
Check out the 1st gen Kindle Oasis review for more about the device and to watch a video overview.