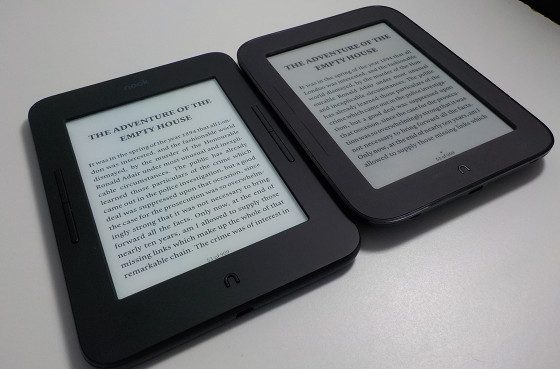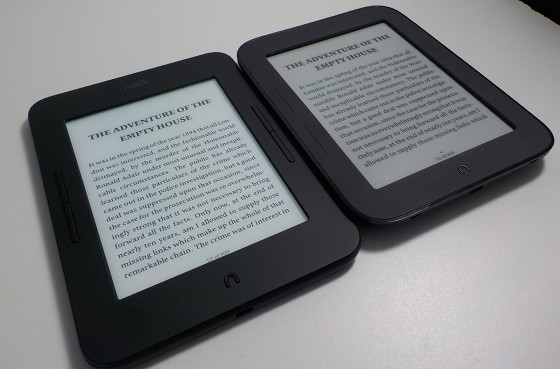 Most of the talk has been about the new 7-inch Kindle Oasis lately, but Barnes and Noble also released a new Nook yesterday, the Nook Glowlight 3.
In some ways the new Nook is kind of the opposite of the new Kindle. The Kindle Oasis is considered more of a premium model with the aluminum back, flush glass screen, and waterproof design.
B&N already did all that with their last model, the Nook Glowlight Plus.
The Nook Glowlight 3 is more of a retro model that brings back memories of the original Nook Simple Touch that was released back in 2011.
The new Nook has a similar design with the larger bezels and a set of page buttons on each side of the screen, and there's a physical Nook button below the screen instead of a sensor that was way too easy to accidentally press on the last model.
I decided to fire up my old Nook Touch to see how it compares to the Nook Glowlight 3. They do look a lot alike, but the new Nook is thinner and lighter. It's also quite a bit taller and it doesn't have the contoured back like the original, but it does have sloping edges that make it comfortable to hold.
The page buttons on the new Nook work much better than the super stiff page buttons on the old Nook. However, the page turns are much slow when using the buttons on the new one; touchscreen page turns are faster, about the same speed on both.
The new Nook adds a frontlight with adjustable color temperature like Kobo's ereaders. It also has a higher resolution screen than the Nook Touch so the text looks sharper. In fact text looks really good on the new Nook in part because it uses an infrared touchscreen so there's no added capacitive layer over the E Ink.
I'll upload a video review showing the new Nook soon. In the meantime here are a couple more pics.