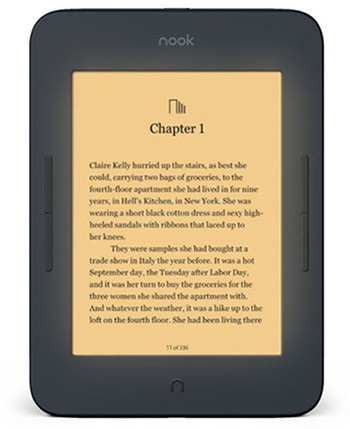 To the surprise of many, Barnes and Noble released a new Nook ereader this past week.
It's called the Nook Glowlight 3, even though it's technically their forth Glowlight Nook (I guess the Nook Simple Touch with Glowlight doesn't count).
It's more of a mid-level device than B&N's last model, the Glowlight Plus.
The Glowlight 3 isn't waterproof, it doesn't have a flush glass screen, and it doesn't have an aluminum back like the last Nook.
What it does have is a nice 300 ppi E Ink screen, two physical page buttons on both sides of the screen, and a frontlight with adjustable color temperature.
The frontlight color goes from a cool blue to a warm orange, similar to Kobo's ebook readers. You can actually see the LED lights under the top edge of the display. It has 7 blue lights and 6 orange.
The design of the new Nook is more like the original Nook Touch than the Glowlight Plus. The large bezels are kind of goofy looking but I find the device very comfortable to hold with a thumb resting on a page button. It's fairly lightweight and is covered in a soft rubbery coating front and back.
As some folks have already pointed out, one of the shortcomings with the new Nook is the partitioned storage space, leaving just under 1GB for sideloaded content, with 5.4GB for Nook content.
The new Nook runs Android 4.4.2 like the Glowlight Plus. Over at XDA they've already managed to root it. Apparently you can also install apps without rooting if you're familiar with using ADB.
I'll post a full review in a couple weeks after getting more familiar with the new Nook. In the meantime here's a video walkthrough.
Nook Glowlight 3 Video Review