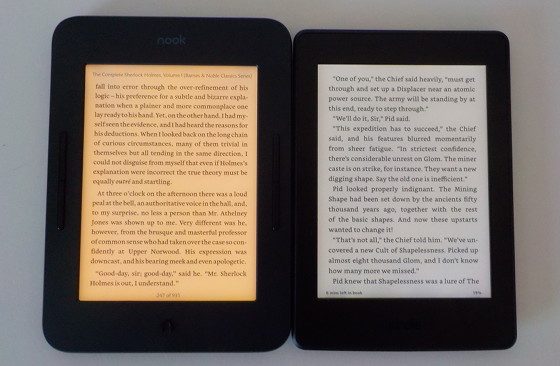 One of the surprising things about the new Kindle Oasis 2 is the fact that it doesn't have a frontlight with adjustable color temperature.
Before the Kindle Oasis was released, I would have thought that to be a more likely feature than adding waterproofing or a larger screen, but as it turns out all frontlit Kindles still have just one standard light color (that can vary greatly from one device to the next).
Kobo was the first to release an ereader with an adjustable frontlight color, the Kobo Aura One.
They followed that up with the 2nd gen Kobo Aura H2O.
And now even the latest ereader from Barnes and Noble, the Nook Glowlight 3, has a frontlight with adjustable color tones.
Personally I've been a bit skeptical of adjusting the frontlight color because I've never read a book with orange paper, nor have I wanted to, but after using night mode on the Glowlight 3 I can see why people like it (the orange light is too blotchy on my Aura One so I never used it much). The color has more of a softer tone and you can blend the color from warm to cool so you don't have to use the extreme settings.
Amazon offers a similar feature on Fire tablets called Blue Shade that changes the screen color to an orangish red color at night, so it's kind of surprising they still haven't brought the same idea over to the Kindle line.
So do you think Amazon should add the option for adjustable frontlight color on the next new Kindle?