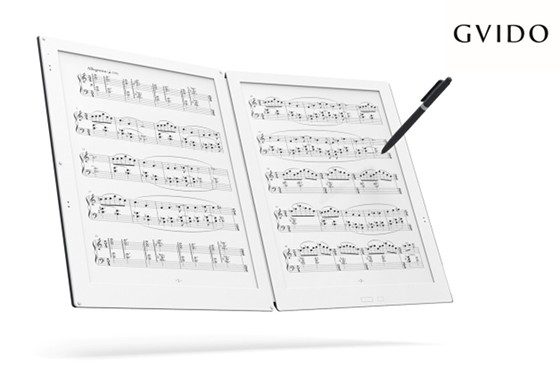 I came across a video review of the Gvido music reader on YouTube today.
The Gvido is a unique device with two 13.3-inch E Ink screens connected together. It has two screens because it's designed specifically for displaying sheet music.
It's an interesting-looking device and the hardware seems pretty nice but it looks like the software still needs some work.
The Gvido first made an appearence in June 2016 as an early prototype.
There have been some delays since then but it was finally released late in 2017, and now it's available to purchase from the Gvido website for a wallet-emptying $1600.
The Gvido uses flexible E Ink screens so it's thin and lightweight for its size at just 6mm thick and 660 grams.
It doesn't have a frontlight and the screen doesn't support finger touch. It has a Wacom touchscreen so it requires using a stylus pen, which seems like an odd choice if you're holding an instrument in your hands.
As far as storage, it has 8GB of internal space and there's a microSD card slot. It has WiFi and three infrared page buttons to page forward and back. Battery life is rated at 3 days, and it supports PDF format.
They also sell a foot switch for an extra $300 and the cover is $300 as well. Apparently you need to be a highly-successful musician to afford one of these!
GVIDO Dual Screen Music Reader