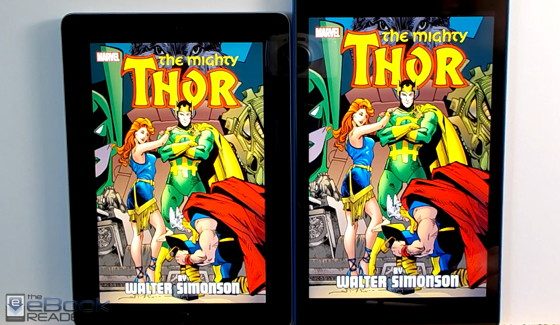 People often ask if the Fire HD 10 is a good tablet for reading PDFs and comics, and the fact is it is a good option, especially considering it has a nice high resolution screen.
Lots of tablets with 10″ displays have lower resolution screens unless you spend a lot for a higher up model. The HD 10 has a nice screen for reading and it still manages to be one of the cheapest 10″ tablets on the market.
In fact the Fire HD 10 is on sale right now for $119. Even at the regular price of $149 it's a bargain compared to most other 10″ tablets.
However, if cost isn't a big concern, iPads are one of the best options for reading PDFs on a tablet. The new 9.7″ iPad starts at $329 so it's a pretty big step up from the HD 10 in price.
One of the things that makes iPads a better fit for reading PDFs is the 4:3 screen ratio. A standard PDF fits that screen ratio better than the 16:10 ratio on 10.1″ tablets, which is more like 16:9 with most apps because of the ever-present navigation bar at the bottom of the screen.
This makes the screen seem narrower in portrait mode on the Fire HD 10 compared to the iPad. The way PDFs scale on 10.1″ screens it leaves large blank spaces above and below the PDF. This effectively shrinks the screen to less than 9″ of usable space, depending on the file, so PDFs naturally look larger on the iPad's screen despite the fact that it's slightly smaller overall at 9.7″.
Another advantage with the 2018 9.7″ iPad is the fact that it supports the Apple Pencil so you can easily write notes and highlights on the screen. You can also use the split screen feature to have a separate notes app open at the same time if you want.
You can still write notes and mark highlights with the Fire HD 10 too, depending on what app you are using, and there are styluses that will work with it too, but I'm not sure how they compare with the Apple Pencil.
The Fire HD 10 has a big advantage in terms of offering expandable storage with its memory card slot, but there are workarounds for iPads.
When it comes to reading comics, the 16:10 ratio screen on the Fire HD 10 is better suited for comics than 4:3 screens, although both are very usable. A standard comic fills the HD 10's screen with very little wasted space above and below the comic, with the sides going all the way to the edge. On the iPad, the same comic scales slightly smaller, with black bars on each side of the screen that amount to about 3/4″ of wasted space.
Fire HD 10 vs 9.7″ iPad – PDFs and Comics