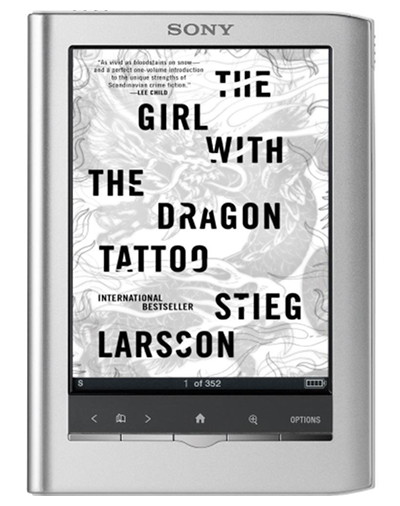 Last fall I posted about how we need more options for small pocket-sized ebook readers. Everything available on the current market has a screen size of 6-inches and up.
There used to be a number of smaller ebook readers available with 5-inch screens. There was even one with a 4.3-inch screen, the Pyrus Mini. But unfortunately that segment of the market has all but faded into the past.
There are a few E Ink cases and E Ink phones with smaller screens but they just aren't the same as a dedicated ebook reader.
I was hoping Kobo would release a Kobo Mini 2, but that doesn't look like it's ever going to happen, especially now that they've got another new 6-inch model coming out next month called the Kobo Clara HD.
If you want a smaller ebook reader in this day and age, you have to look for devices that were released over 5 years ago.
The Sony PRS-350 came out way back in 2010, and the sad thing is it's still one of the best smaller pocketable ebook readers out there.
I ended up selling my PRS-350 a few years ago because I wasn't using it anymore, and I figured something newer and better was bound to come along eventually. But there haven't been any new 5-inch ebook readers released in the past 5 years, and lately I've been wanting a smaller pocketable ebook reader to take on hikes and when out other places.
For me 6-inch ereaders are just too big and bulky to comfortably fit in a pocket. Sure, you might be able to cram one into a cargo pocket but then it's flopping around annoyingly with every step.
That's why I ended up buying a used PRS-350 off of eBay for $15 (how could I pass that up). I thought about getting a Kobo Mini but I decided I'd rather have something with page buttons and the Sony PRS-350 fits that bill perfectly, and it's small enough to fit into a pocket and you can hardly tell it's there. After all, Sony called it the "Pocket Edition" for a reason.
I'm surprised by how much I like the PRS-350. It has a nicer design and better build quality than most ebook readers today. The software has a number of limitations (there's only one font type, no layout settings, and the font sizes are pretty awful) but luckily Calibre makes changing the font and layout easy.
If the current lineup of ebook readers doesn't have what you're looking for, consider looking into some older models. First off, they're cheap. And second, ereaders age better than most electronics.