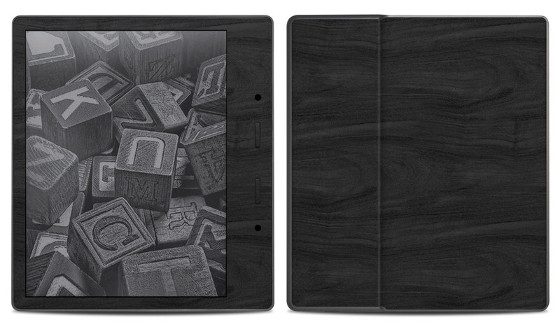 A couple weeks ago I posted about skins for the Kindle Oasis 2, and I decided to order a skin from DecalGirl.
I wanted to try putting a skin on the 2nd gen Kindle Oasis to see if it would help give the device more of a book-like feel instead of the cold, slick feel of metal and glass.
I opted for the black woodgrain skin because I didn't want anything too distracting to the eye while reading.
Putting the skin on was a piece of cake, much easier than putting on a screen protector.
It fits the contour on the back of the Oasis well and there are cutouts for the page buttons and light sensor.
However, the skin only covers the front and back, not the sides at all.
This leads to one key problem. The edge of the skin is situated right where you put your hand, and I don't like how it feels at all. It places a rough seam right where you hold the device the most.
I was also hoping the skin would have more of a matte texture feel. They say the skin has a matte/satin finish but it doesn't really have a matte feel at all. It's smooth but less slick than the metal and glass so it does help some, but it doesn't have enough texture.
The skin does help reduce some of the cold of the aluminium back, and it does add enough texture that it doesn't feel like the Kindle is going to slip out of your hand nearly as easily as without the skin, but the seam right on the hand is enough to make me want to rip it off and throw it in the trash. I'm going to keep it one for awhile to see if I can get used to it but my first impressions of it aren't great. It does look cool, though.