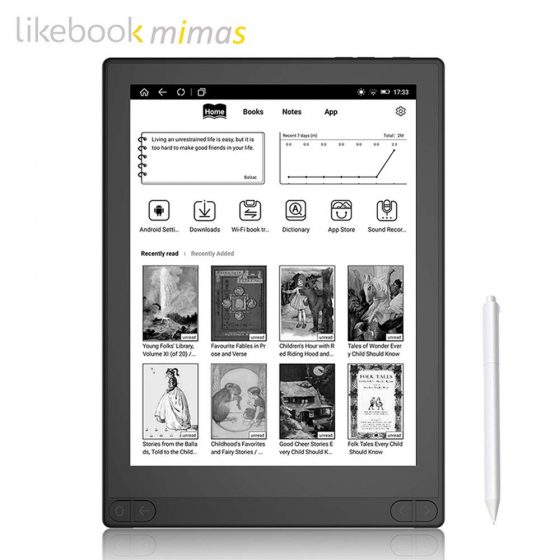 The Likebook Mimas is an Android-powered ebook reader and digital notepad with a 10.3-inch E Ink display.
It's the least expensive large-screen ereader with a frontlight, and the price has just decreased again at Amazon, down to $439 with free shipping.
It was originally priced at $489 when it was released back in mid-April.
Then they dropped the price to $459 for Prime Day in July. Now the price has dropped again.
Whether the price drop is permanent or not remains to be seen, but it probably is considering the fact that Boyue has released a newer model, the Likebook Alita, which is basically just the Mimas with a different design, and double the storage space and RAM.
When compared to the Onyx Note Pro, the Likebook Mimas is a distant second, but the open Android software is lot more versatile than other 10.3-inch devices like the Sony DPT-CP1 and Remarkable, both of which are a lot more expensive at $599 and neither have a frontlight or memory card slot like the Mimas.
Boyue updated the software on the Mimas last month to fix some bugs, so hopefully that worked out some issues.
Here's the Likebook Mimas review for a full list of specs and a closer look at the device in action.
I would still recommend the Onyx Note Pro over the Likebook Mimas, but it's nice to see the price-drop trend continuing with these larger E Ink ereaders.