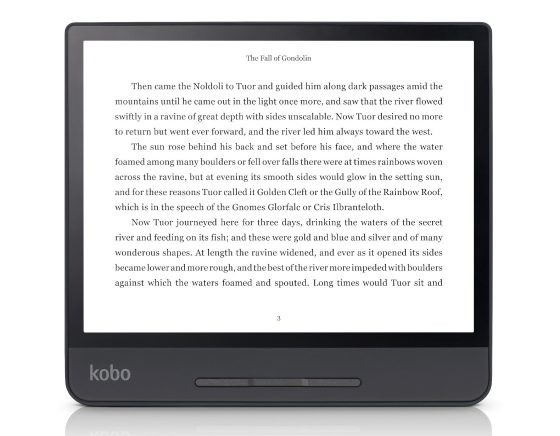 Just because Kindles are the most popular dedicated reading devices doesn't mean they are the best. It's hard to argue with their overall set of features and the convenience of Amazon's reading ecosystem, but there are alternatives to Kindles that are great for reading ebooks and other forms of digital content as well.
Some people hate all things related to Amazon, just like some people hate everything about Walmart, so here a few options for those that don't want a Kindle from Amazon.
When it comes to ebook readers with eye-friendly E Ink screens, there are few options outside of Kindles, but there are a couple of solid alternatives.
If you'd rather not be limited to Amazon for buying ebooks and would rather buy ePub ebooks from places like Google and Kobo, any device not named Kindle will work fine without having to remove ebook DRM and mess with converting.
Best Kindle Alternatives
Kobo – The most popular non-Kindle ebook readers come from Kobo, a company based in Canada. Kobo's lineup of ebook readers is similar to Amazon's. They offer a 6-inch model called the Kobo Clara HD that's basically equivalent to the Kindle Paperwhite and they have some larger 7-inch and 8-inch models, the Kobo Forma and Kobo Libra, with buttons on the side similar to the Kindle Oasis.
Kobo's ebook readers offer more formatting options than Kindles and they have OverDrive support built-in to download library ebooks without having to use a separate device. The only complaint I have with Kobo is their frontlighting often isn't as uniform as Kindles, but they all have the option to use a warm frontlight, except the new Kobo Nia.
Onyx Boox – Onyx's lineup of Boox ereaders are another good alternative to Kindles. Because of their open Android operating system they are a lot more advanced than Kindles, and they can even easily read Kindle ebooks without conversion using the Kindle Android app and it actually works surprisingly well.
The good thing about Onyx is they offer a wide variety of screen sizes, unlike Amazon. The current models include a 13.3-inch Onyx Max3, a 10.3-inch Onyx Note2, a 7.8-inch Onyx Nova2, and a 6-inch Onyx Poke2. The only problem with Onyx is their prices are higher than other brands, but they do offer more features, like Wacom touchscreens for notetaking using a stylus, USB-OTG support for connecting things like keyboards and expandable storage, they support audio and text-to-speech, you can install 3rd-party Android apps, and their PDF support is much better than other ebook readers.
More Kindle Alternatives – I would consider Kobo and Onyx the best Kindle alternatives but there are other options as well. Pocketbook has been around for a long time and they recently started selling Pocketbook ereaders on Newegg so at least there's somewhere to buy them in the US now.
There are other Android-based ereaders as well. Likebooks are similar to Onyx's ereaders and they're a bit cheaper, but Onyx has them beat in virtually every category. Likebook's software has serious flaws and it's been that way for years so they're probably not going to fix it anytime soon.
You might be wondering why Nooks aren't mentioned but after all the things that Barnes and Noble has done damage the Nook's reputation over the years I would not recommend them at all unless you really know what you're getting into, especially since they've never fixed the problem with sideloaded ebooks sometimes getting corrupted and disappearing from the library. The new ownership might bring Nooks back from the brink but that still remains to be seen.