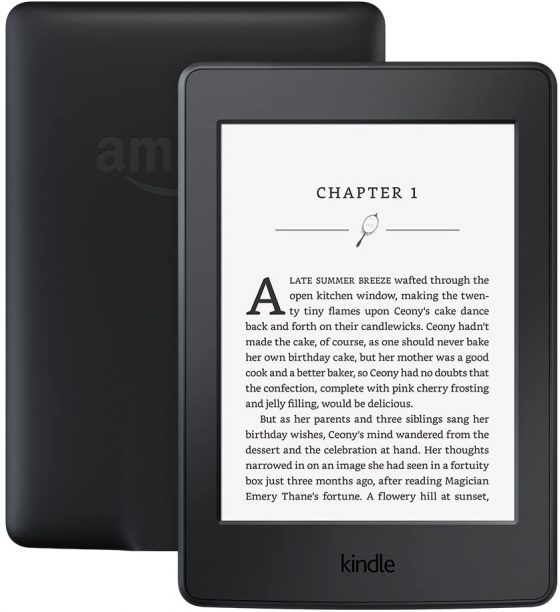 Last week Amazon released another software update for Kindles, version 5.13.1, and once again the Kindle Paperwhite 3, which Amazon refers to as the Kindle Paperwhite 7th generation, was mysteriously left out.
At this point it appears that Amazon has stopped updating the Kindle Paperwhite 3 altogether. They would most certainly update it if there was a security issue, like they have with older Kindles in the past, but it looks like it won't be getting any new software features anymore.
Amazon usually supports older Kindles with software updates for a lot longer after a model is replaced than they have with the Paperwhite 3, which is probably the best-selling Kindle ever (it still has 8,000 more customer reviews than the current model).
They kept issuing updates for the Paperwhite 2 for several years after it was discontinued. In fact it's only one firmware version behind the Paperwhite 3.
What's especially weird about the whole thing is Amazon is still updating the Kindle Voyage, which was released in November 2014 before the Paperwhite 3 even existed. Both are virtually identical hardware-wise so why would they continue to update one and not the other?
Currently the latest software version that Amazon has available for the Kindle Paperwhite 3 is 5.12.3 from the Kindle Software Updates page.
The Paperwhite 3 briefly had access to the 5.12.4 update, but then Amazon pulled the update and went back to the 5.12.3 update for the Paperwhite 3.
My Paperwhite 3 is on the 5.12.4 firmware and it seems to work fine, although I have no interest in using it for any length of time with the nicer Kindle Oasis 3 sitting around. My Paperwhite 3 did get the new font menu that was advertised in the 5.12.4 update, but it still hasn't gotten the option to permanently delete ebooks.
Meanwhile other Kindles have been updated twice since then, with firmware version 5.12.5 and 5.13.1.
I figured there was an issue with the 5.12.4 update and the Kindle developers would get things worked out and start updating the Paperwhite 3 again, but so far that hasn't happened. There has been an uptick in reports of software-related issues this year, so perhaps they are having some problems getting the newer features to run properly on the Paperwhite 3, but then why is the Kindle Voyage still getting updated? It doesn't make any sense.
Update: Amazon has officially released a new update for the Kindle Paperwhite 3, bringing it to the same version as current Kindles.