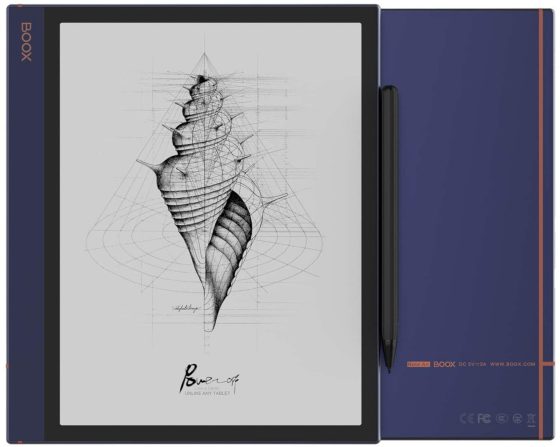 Back in October Onyx released the 10.3-inch Onyx Note Air with a new design and lower price than their other Note models, and so far it appears to be a big success.
Onyx released three other new models around the same time—the Nova3, the Max Lumi, the Poke3—and what I find interesting is it appears the Note Air is by far and away the most popular model.
Obviously I have no way of knowing Onyx's actual sales figures, but if you just go by the number of customer reviews posted for the Note Air it has more reviews than all the other new models combined.
At Amazon the Note Air currently has 54 reviews. By comparison the Note3 only has 4 reviews posted and it was released at the same time. The Nova3 has 21 reviews and the Max Lumi has 32 reviews, and the Max was released a month earlier.
On Onyx's own website the Note Air reviews far outpace reviews for other products as well. The Note3 looks like it has more reviews but that's just because most of those are for the earlier Note2. Upon closer evaluation only 2 are for the Note3, compared to 20 for the Note Air.
So what is it about the Note Air that makes it so much more desirable than Onyx's other models?
Is it the new design? Is it the lower price?
The Note3 has better specs (more storage space, more RAM, and it has a much larger battery and is lighter) so it's interesting to see more people choosing the Note Air instead. It is $80 cheaper than the Note3 but it would appear the design is a bigger factor than the price for most folks.
Last month I posted a review of the Note Air, and while I think it's a really nice device, I still prefer the Note2 with its longer battery life and lighter design that's easier to hold.
Moving forward it will be interesting to see where Onyx goes from here. The Note Air is clearly a popular device. I wonder if it will send Onyx in a new direction. I wouldn't be surprised to see them come out with a 7.8-inch Nova model with a similar design. Some people don't like offset designs on ebook readers, but others clearly do, and that's the direction things have been going lately with the Kobo Libra H2O, the Kobo Forma, and Kindle Oasis.