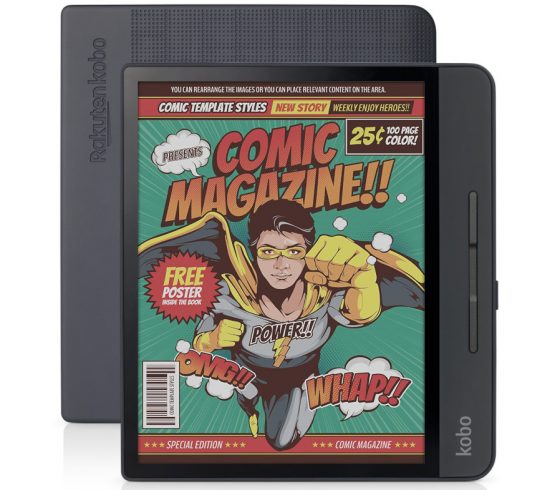 Now that PocketBook has released the PocketBook InkPad Color with a 7.8-inch color E Ink screen, and with Onyx expected to release a Nova Color next month, could Kobo's upcoming new ereader also feature a 7.8-inch color E Ink screen?
There's a discussion over at MobileRead about a new Kobo model (N604) recently showing up on the FCC website, and I think there's a good chance it could be Kobo's first color ereader.
The only thing the paperwork reveals about the new Kobo is it has 32GB of storage and Wi-Fi and Bluetooth, so it's hardly worth mentioning, but it does indicate that Kobo is planning to release a new model soon.
Given the fact that it has 32GB of storage space, it's not going to be a budget model. Some people think it's going to be a Kobo Forma replacement since that's the oldest Kobo on the block, but it doesn't really make sense to replace the Kobo Forma unless they're going to ditch the design. It's still the only device on the market with an 8-inch Mobius screen, and Kobo doesn't do minor spec upgrades like Onyx does, so what would they change to make it better?
Some think the addition of Bluetooth means the new device will support audiobooks, but if that's the main thing they are going to change then it would be a pretty lame upgrade, especially since virtually nobody wants to listen to audiobooks on an ereader.
What makes more sense is for Kobo to release a new model using E Ink's latest 7.8-inch Kaleido screen. If they market it as a manga and comic reader then having 32GB of storage would be key.
There's also the fact that Kobo just redesigned the ereader portion of their website, and one interesting thing is they now list the screen size and type at the top of the description, and if you look at their main list of ereaders that's the first thing that stands out.
If they're going to be adding a new model with a color E Ink screen to the list, then it would make sense to list the size and type of screen first.
Nobody really knows what Kobo is going to do next, but I think jumping on the color E Ink bandwagon early is something that could benefit them. Releasing a new Forma that supports audiobooks isn't going to catch anyone's attention; releasing an ereader with a color E Ink screen would be a lot more interesting and more likely to catch people's attention.
The PocketBook InkPad Color sold out in one day, and so did the Onyx Poke2 Color when it was first released. We don't know how many they had available, but people are clearly interested enough in color E Ink to drive sales. The 6-inch PocketBook Color is the #1 best seller in the ebook reader category at Newegg and the new InkPad Color is the #2 best seller.