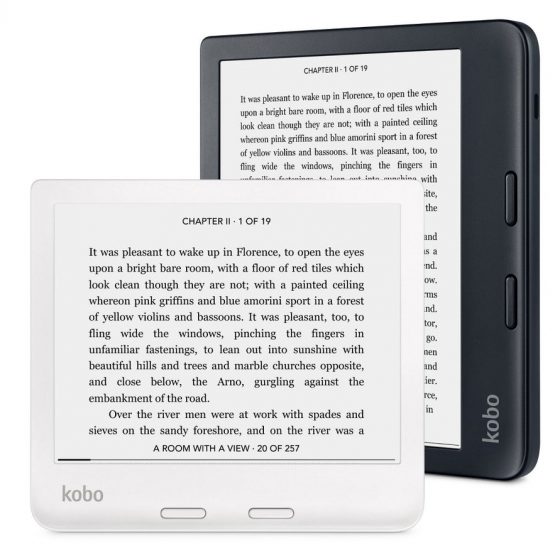 Kindles are the most popular dedicated reading devices, but Kobo offers some really solid alternative ereaders, and Kobo's devices have some advantages over Kindles.
Below is a list of five things Kobo ereaders do better than Kindles, in no particular order.
Some people consider ePub support to be another advantage for Kobo, but I fail to see how ePub ebooks are "better" than other ebooks, especially since they have DRM too (and more than one type), and the ones that don't can easily be converted to other formats, including Kindle formats (in fact, all you have to do is change the file extension to .png from .epub and Amazon will convert it automatically when using send-to-Kindle or email).
Supporting ePub does open up the possibility of shopping from other ebook stores so that is an advantage in one sense, but considering how easy it is to remove DRM from purchased ebooks it's not like that's hard to do with Kindles.
Kobo eReader Advantages
1. Font choices and layout settings – One long-standing advantage Kobo ereaders have over Kindles is more font choices and more layout controls for line-spacing and margins. You have more control over how the page looks, and you can turn headers and footers on and off, and something about the fonts just look better on Kobos than Kindles—the text just seems to be sharper and more defined.
2. Overdrive support – Kobo ereaders have Overdrive support built-in so you can easily download ebooks from public libraries for free directly from the Kobo store. Kindles support Overdrive too, but only in the US and you have to use a secondary device to browse and checkout library books and then send them to Kindles through Amazon's website—they cannot be borrowed directly from Kindle devices.
3. Customizing – There's an active developer's community for Kobo ereaders with all kinds of customizable hacks and tweaks to add additional features and reading apps to Kobo ereaders, and Kobo is fine with letting users do what they want with their devices. Meanwhile Amazon actively tries to prevent people from doing the same kind of things on Kindles.
4. Organizing – Kobo ereaders have more ways to sort and organize your content, and they can be used with Calibre to manage collections.
5. More device choices – One nice thing about Kobo is they offer more ereaders in more sizes. There are two 6-inch models, there's the 7-inch Libra 2, an 8-inch Kobo Sage, and a 10.3-inch Kobo Elipsa. The latter two also support writing with a stylus, something Kindles don't do.