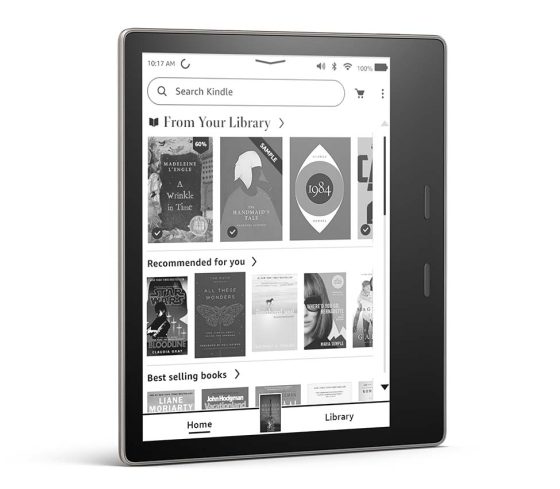 When it comes to reading Kindle ebooks, most people use Kindle apps for phones and tablets or a dedicated Kindle ereader.
Both options have some unique advantages over the other, but each has some disadvantages as well, depending on how you choose to read.
Here's a list of the main advantages for Kindle ereaders over Kindle apps and vice versa.
Kindle eReader Advantages
E Ink Display – Kindle ereaders use a different type of screen technology than tablets and phones. E Ink screens are meant to look more like printed ink on paper, and they are known for being easier on your eyes, especially considering you can turn the screen lights completely off, and E Ink screens are easily readable in direct sunlight.
Battery Life – Kindle ereaders can go several weeks on a single charge because E Ink screens don't use much power.
Lightweight – Kindles are very light for their size. They are much lighter than tablets and they're even lighter than a lot of phones. For example, the current entry-level 6-inch Kindle only weighs 158 grams. The smaller iPhone 14 weighs 206 grams and the larger one weighs 240 grams.
Write on Screen – The Kindle Scribe is the one Kindle that lets you write on PDFs and add handwritten sticky notes to ebooks. This cannot be done using Kindle apps.
No Distractions – Kindles are good for reading ebooks and that's about it (and you can listen to audiobooks too). There aren't any distracting email alerts, push notifications, social media nonsense, etc. And the Kindle's web browser is so crappy you'll never want to use it.
More Fonts – One benefit with Kindle ereaders over Kindle apps is you can add custom fonts and you can control the boldness of the font, neither of which is an option with Kindle apps.
Kindle Apps Advantages
Color Screen – Obviously phones and tablets have color screens, unlike Kindles, and you can also use different colors for highlights and change the color of the screen background.
Faster – One disadvantage with E Ink screens is they are slower to refresh. Scrolling and doing things like browsing your library or the Kindle store is going to be faster on a tablet or phone using a Kindle app.
Multi Column/Scrolling – Kindle apps have the option to use two columns in landscape mode, and they also have a continuous scrolling mode if you'd rather scroll than turn pages.
Immersion Reading – With Kindle apps you can read along while the audiobook is playing; with Kindle ereaders you can't do both at the same time.
Reading Insights – Kindle apps have a section that shows some reading stats and Kindle Challenges, neither of which are available on Kindle ereaders for some reason.
Word Runner – An alternate way to read that basically only shows one word at a time. This feature, called Word Runner, isn't available on Kindle ereaders.
Sharper Screen Possible – Kindle ereaders top out at 300 ppi. Some phones have sharper screens than that, like the iPhone 14, which has 460 ppi.
Less Things to Carry – If you have a Kindle ereader that's just one more thing to take with you. Most people already carry a phone everywhere so sometimes it's just easier to read on it.
Kindle Apps are Free – Possibly the biggest advantage for Kindle apps is the simple fact they are free. You don't have to buy a Kindle to read ebooks when you can just use a phone or tablet that you already own.