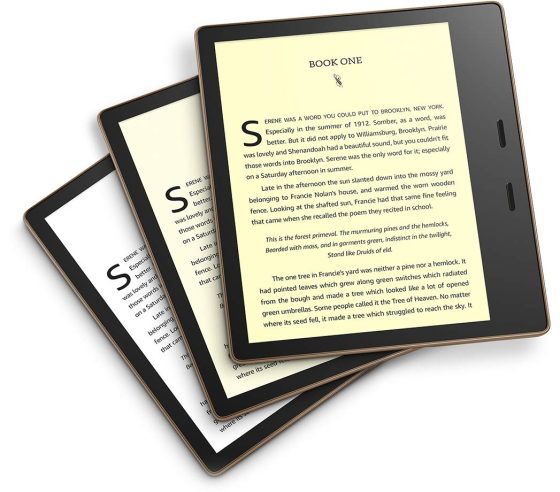 The Kindle Oasis 3 is one of the nicest Kindles that Amazon has ever released, but it's also the most outdated Kindle in the current lineup. It would be different if the price of the Oasis was reasonable, but it's also the most overpriced Kindle in the current lineup and it's not close.
The Kindle Oasis has been outdated since 2021 when Amazon released the Kindle Paperwhite with several upgrades the Kindle Oasis still lacks, including wireless charging, support for dual-band WiFi, having a USB-C port, and vastly superior battery life.
Not only is the Kindle Oasis outdated, it's overpriced compared to other Kindles, and yet Amazon keeps right on selling it like nothing has changed, and they rarely ever put it on sale.
How can they charge $249 for an 8GB Kindle Oasis with ads? The 32GB version is $299 without ads. And yet the Kindle Paperwhite Signature Edition with 32GB of storage and several upgrades and no ads only sells for $189. How does that make any sense?
Then there's the Kindle Scribe that starts at $339. It has a much larger screen, it comes with a stylus, it's faster and more responsive than the Oasis, the screen refreshes smoother, it adds support for dual-band WiFi, it has a USB-C port, and the battery lasts several times longer. It can also do things the Oasis can't, like writing on ebooks and PDFs, and you can use it for notetaking and drawing.
The only advantage the Oasis has over the Scribe is the fact it has page buttons and it's waterproof.
Even by Amazon's sluggish standards of refreshing Kindles, things are starting to go to a new level of neglect with the Kindle Oasis. Aside from finally adding a warm frontlight in 2019, the Kindle Oasis has remained unchanged since 2017. How long is Amazon going to stick with the same design and outdated specs?
The Kindle Oasis is supposed to be Amazon's upper level premium Kindle. What happened to that? Now the basic entry-level Kindle that sells for $99 has some upgrades over the Oasis, like the USB-C port and the fact it comes with 16GB of storage instead of 8GB. Plus it supports 5.0 GHz networks, unlike the Oasis.
How much longer is Amazon going to keep selling the outdated Kindle Oasis? They added a 16GB version of the Paperwhite a while back when they released the new Kindle, yet they opted not to add a 16GB version to the Oasis. Are they ever going to release a new version?