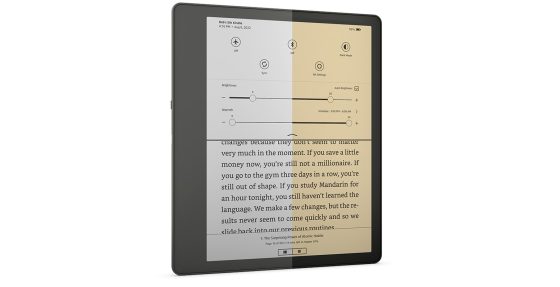 Now that Amazon has the Kindle Scribe on sale at its lowest price ever, starting at $289 for the 16GB model, it makes me wonder why the Kindle Scribe is the least expensive 10-inch ereader and eNote on the market, by a wide margin at that.
Most people that see the price of the Kindle Scribe probably don't think that it's cheap, but compared to all other similar E Ink devices on the market it costs a lot less than the alternatives.
Going back a few years, you pretty much had to spend a minimum of $550 to get a 10-inch E Ink device with a Wacom touchscreen. The Sony DPT-CP1 was one of the earlier models back in 2018 and it sold for $599, and it was a lot more limited than the Kindle Scribe.
Onyx's first 10-inch Note from 2018 sold for $549, and the latest Note 5 still sells for the same price. But those devices use flexible E Ink screens, whereas most newer eNotes use cheaper glass-based screens. Even still, Onyx's devices sell for a lot more than the Kindle Scribe. Their Note Air 2 sells for $479, their upgraded Tab Ultra sells for $599, and even their 7.8-inch Nova Air 2 sells for as much as the Kindle Scribe when it's not on sale.
The Kobo Elipsa is another 10-inch model that's comparable to the Scribe, and it sells for $399. It was just on sale for the lowest price ever at $349, but somehow the Scribe with superior hardware still manages to undercut that by another $60.
Not only is the Kindle Scribe significantly cheaper, especially while it's on sale, but it also has the best screen and the best frontlight of all the 10-inch eNotes. So far Amazon is the only company using the upgraded 300 ppi screens, while all other eNotes are using 227 ppi screens.
There are a few 10-inch ereaders that have been cheaper than the Kindle Scribe, like the PocketBook InkPad Lite, but it has a massively outdated 150 ppi screen and no notetaking capabilities, so it's not really in the same class. There's also the Meebook P10 for $339 but it only has a 200 ppi screen and it has an inferior capacitive stylus pen that you have to purchase separately.
The Remarkable 2 can be had for as little as $299, but that's without a stylus, which adds another $79 to the price, and that's for the basic pen. Plus there's the fact the Remarkable doesn't have a frontlight, and frankly, it's a terrible ereader that doesn't even support DRM'd ebooks so it's really just a notetaking device and a basic PDF reader.
So why is Amazon selling the Kindle Scribe for considerably less than other 10-inch eNotes? It's not like they make more money off of people taking notes. They don't sell templates or cloud storage or anything like that for the Scribe. The only extra they're really making off of the notetaking aspects of the Scribe is selling replacement pen tips in packs of 10 for $14.99. That doesn't exactly sound like a gold mine.
Frankly, I'm still surprised Amazon decided to release a 10-inch Kindle at all. The economics of the situation don't really make sense. Personally, I really like the Kindle Scribe and I'm glad Amazon sells it for less than competing devices, but they probably could've upgraded the Kindle Oasis and sold just as many or more at a slightly lower price than the Scribe. I don't understand how Amazon plans to make money on a note-oriented Kindle when they clearly aren't making much off of hardware sales.