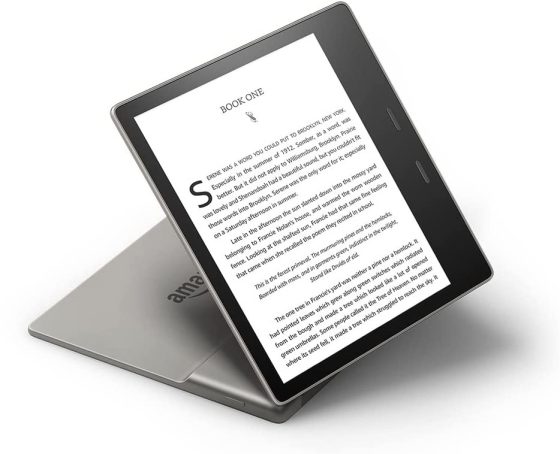 Ever since Amazon announced the Kindle Scribe last September, a surprising number of people have voiced their disappointment in Amazon for not releasing a new Kindle Oasis.
Some people like the larger notebook format of the Kindle Scribe, and others want something smaller with page-turn buttons.
The Kindle Oasis is the last remaining Kindle that has page-turn buttons, and the design dates back to 2017 when Amazon first released the Kindle Oasis 2. The Kindle Oasis 3 was released in 2019, but Amazon just basically added a warm frontlight to the Kindle Oasis 2 so the design has remained unchanged for going on 6 years now. That's a long time, even by Kindle standards.
At this point I think Amazon is more likely to retire the Kindle Oasis line than come out with a newer version.
First off, now that the Kindle Paperwhite has a 6.8-inch screen, it doesn't make a lot of sense to have a more expensive Oasis with a marginally larger 7-inch screen. It would make more sense to offer a slightly larger screen in the 8-inch range about halfway between the Paperwhite and the Scribe.
Other ereader companies have already done this so it's not a stretch to think Amazon will do the same. Kobo has the 8-inch Kobo Sage that supports the Kobo Stylus and Onyx has the 7.8-inch Nova Air that's basically a smaller version of their Note models.
If Amazon does decide to release an 8-inch Kindle with notetaking capabilities, is seems unlikely they would opt to call it a Kindle Oasis. If it has writing features calling it something with the word Scribe in the name would make more sense, and if Amazon is smart they'll add page buttons to it to accommodate that segment of the market, and it can still double as a pure ereader like the Oasis, but with notetaking capabilities for those that want those features too.
Some people will hate to see the Kindle Oasis retired, but it's a relic of a different time. It's supposed to be a premium Kindle, but it's the only Kindle that lacks a USB-C port, it doesn't have wireless charging like the Signature Edition Paperwhite, battery life isn't that great, the screen doesn't refresh as cleanly as newer Kindles, and the $250 model has less storage space than the $99 basic Kindle.
It's time for something new to take the place of the Kindle Oasis. A new mini version of the Kindle Scribe with page buttons and a revamped design could be a nice addition to the Kindle lineup, basically a slightly larger Kindle Oasis with stylus support. That seems like the most logical next step in the evolution of the Kindle line.