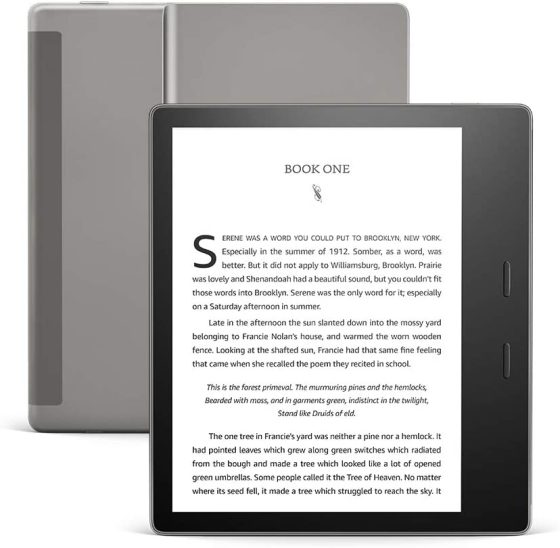 People have been hoping for a new Kindle Oasis since 2021 when Amazon refreshed the Kindle Paperwhite line, but at this point that's looking less likely by the day.
The Kindle Oasis 3 will turn 4 years old next month. Is was released on July 24th, 2019, but Amazon reused the design of the Kindle Oasis 2, so the Oasis in its current form actually dates back to October 2017.
That's a really long time in electronic gadget years. It's interesting how the Oasis 2 was on the market for less than 2 years before they added the warm frontlight, and now it's been nearly 4 years and Amazon still hasn't upgraded it since then.
The Kindle Paperwhite 3 was on the market longer than most Kindles, and it was replaced after 3 years and 4 months.
The Kindle Oasis 3 is seriously outdated at this point. Even the cheap entry-level Kindle has upgrades that it lacks, like a USB-C port, better battery life, and more storage space.
If Amazon doesn't announce a new Kindle Oasis by the end of October of this year, then the Oasis is most certainly going to be phased out.
I think the odds of Amazon releasing a Kindle Oasis 4 is pretty low at this point. I think a Mini Kindle Scribe would make a lot more sense if they're going to release a new model this year. Amazon refreshed the entry-level Kindle last year, and the Paperwhite 5 is still less than 2 years old so it's not getting replaced anytime soon.
Given that, Amazon should release a new premium Kindle at some point this year if they're going to release anything at all, so there's still some hope for a new Kindle Oasis or whatever they want to call it. Eventually something has to change. How much longer can they keep selling the Kindle Oasis 3 in its current form? Four years is a long time to go without any upgrades, especially when the lower tier Kindles are getting upgraded.