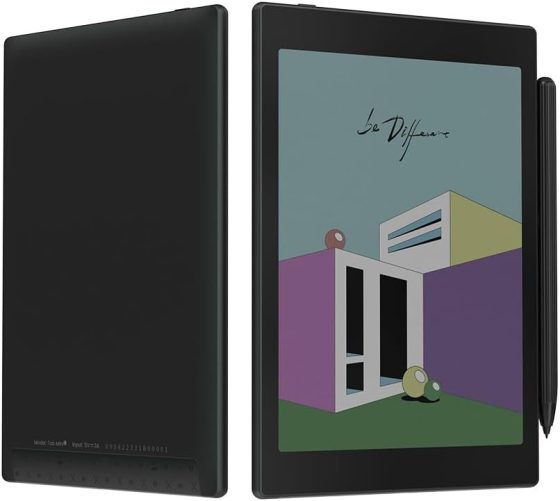 There seems to be a growing interest in ereaders and eNotes with color E Ink screens so I thought I'd put together an article with my thoughts on the subject.
There still aren't very many options to choose from when it comes to color E Ink devices. There aren't any color Kindles, Kobos, or Nooks. Only a few companies are selling color E Ink devices outside of China, and most are a lot more expensive than regular black and white ereaders.
Onyx has a few different color models, and PocketBook just released the PocketBook InkPad Color 2, and there are a few other obsucre and overpriced options out there, but are any of them really worth buying?
There are only a few models on the market with the latest generation color E Ink screens, called Kaleido 3. Here's a screen comparison review for a closer look.
At this point it's hard to recommend anything with a previous generation Kaleido Plus screen after seeing how much better the Kaleido 3 screen looks on the Onyx Boox Tab Ultra C that I reviewed a couple months back.
The color resolution bump from 100 ppi to 150 ppi is nice, but what's even better is how the color filter layer is less visible on Kaleido 3 screens. Kaleido displays are really just regular black and white E Ink screens with an RGB color filter over the screen, and that filter layer is a lot less visible on Kaleido 3 displays than on earlier generation color screens.
Kaleido 3 screens still have a darker appearance than regular black and white E Ink screens because of that filter layer, but with the frontlight cranked up a bit that's a different story.
If you do get a device with a color E Ink screen, you can expect the colors to look more faded and subdued than LCD screens, and there's a fair bit more ghosting (afterimage effects) with color E Ink, but that's normal for this type of screen technology.
Best Color E Ink Devices
Okay, let's cut to the chase. There are really only two color E Ink devices that I would recommend at this point and they aren't cheap:
BOOX Tab Ultra C – Onyx's latest eNote with Android 11 and a 10.3-inch color E Ink screen. See my review for more details.
BOOX Tab Mini C – The Tab Mini C is basically a smaller version of the Ultra C. It has a 7.8-inch screen, and it lacks a few extras like the rear camera, the fingerprint reader, and the microSD card slot.
Onyx is the type of company that releases new models about every five minutes so they will probably have some more options available soon. They also still sell the Nova Air C but it has the previous generation color E Ink technology.
If you really just want something cheaper and more basic than Onyx's offerings, something without notebook features, the PocketBook InkPad Color 2 is probably the best option to go with. It does use the older screen tech, but it's a second gen color model so some of the kinks should've been worked out by now. I reviewed the original InkPad Color and my main complaint was how slow it was, but this newer version has an upgraded quad-core CPU so that shouldn't be the case any longer.