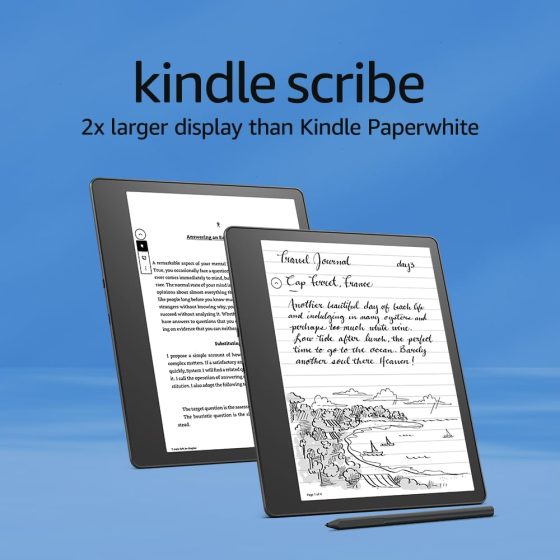 Amazon has the Kindle Scribe on sale again, and this is the second lowest price it has sold for since it was released last year (prices are $10 higher than they were on Prime Day back in July).
It's another Prime Exclusive deal, of course, but the prices are $75-$90 off so it's worth picking up a Prime trial if you don't have an active membership.
Kindle Scribe Deals List
It's also worth noting that you can get an additional $40 off the sale prices when buying 2 Kindle Scribes.
The base 16GB model is the only one that has the option to get the basic stylus. The premium stylus adds an eraser to one end and a button that can have different shortcuts set to it for things like erasing, highlighting, creating sticky notes in ebooks, etc.
I still don't understand how Amazon can sell the Kindle Scribe for basically the same price as the Kindle Oasis. Why do they want people to buy the Scribe more than they want people to buy the Kindle Oasis? It's also a lot less expensive than other eNotes with 10-inch E Ink screens, and I don't really understand why.
I really like the Kindle Scribe and think it's an underrated device. See my Kindle Scribe review for a list of pros and cons and to watch a video review of it in action. Amazon has updated the software several times since it was released, though, so they've addressed a number of shortcomings since then.
One of the updates added contrast control to sent PDFs, two-column mode for ebooks, which I really like, and the ability to view multiple notebook pages at once and rearrange them. Another update added text conversion and a lasso tool for editing notes, so at least they've been actively improving the software since it was released.