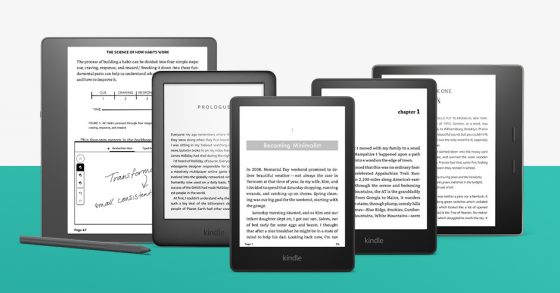 This is the time of year when people start asking about Black Friday deals on Kindles, Kobo ereaders, Nooks, PocketBooks and Onyx's devices, among others, so I thought I'd explain how it generally works this time of year.
Amazon usually starts their Black Friday deals on Kindles about one week before Black Friday so you can expect the deals to start sometime toward the end of next week, and sometimes they offer deals on refurbished Kindles before then (like they are right now with the Kindle Scribe for only $205).
Black Friday is a great time to get a deeply discounted Kindle, especially if you have an old one to trade-in, but other brands don't really do much for Black Friday and Cyber Monday. Kobo, for instance, usually just does a typical $20-$30 off sale like any other time of year.
Kindles
Last year, Kindle ereaders were up to $95 off for Black Friday (then Amazon just rolls the same deals into "Cyber Monday weekend").
Based on past sales, you can expect the Kindle Paperwhite to drop below the $100 mark. The 8GB version was $89 this past Prime Day (it was $95 last year for BF), and the Kindle Oasis was $165 in both instances. The entry-level Kindle was $65 on Prime Day so expect a similar price for Black Friday.
The 16GB Kindle Scribe was marked down to $254.99 for Prime Day so the Black Friday price will probably be somewhere in that range. The Kindle Scribe wasn't on sale last year because it hadn't been released yet.
Kobos
Last year Kobo took $20 off the Kobo Libra 2 and the Kobo Nia, and $30 off the Kobo Sage. The Kobo Elipsa was $40 off but it got replaced by a newer model a few months later so I don't know if they'll discount the newer version by that much this year. In fact, the Elipsa 2E hasn't been on sale a single time yet since it was released so they should put it on sale.
Right now the first gen Kobo Elipsa is on sale for $329 at Amazon, which is $20 less than Kobo is selling it for from their website, and the lowest price I've seen it going for new. It's pretty much the same as the new model but without the warm frontlight.
Nooks
Barnes and Noble had the Nook Glowlight 4e marked down to $59 last year for Black Friday, which is a really good price for an E Ink ereader. It normally sells for $99 so that was a pretty good discount. The Nook Glowlight 4 was marked down by $30 to $119.99, which is still pretty expensive for a 6-inch model. The Kobo Clara 2E is only $10 more than that when it's not on sale, and its software is superior to the Nook's in almost every way (though I would give the hardware advantage to the Nook with the page buttons).
Onyx Boox
Onyx is a company that usually doesn't do much of anything for Black Friday and Cyber Monday. They rarely put current models on sale at all. About the only time they discount their devices is when a new model is going to get released, and when they do lower the price it's usually permanent so it's not really a "sale".
Given that, don't expect to see any of Onyx's newer devices on sale for Black Friday, like the new Note Air 3C or Tab Ultra C Pro or Palma, but I wouldn't be surprised to see the Note Air 2 Plus being discounted. Rumor has it Onyx is going to release a black and white version of the Note Air 3 before the end of the year so they'll likely lower the price of the Note Air 2 when that happens.
You might also be able to find some deals on the previous generation Tab Ultras. They also recently lowered the price of the Tab Mini C to $399 from $449.
PocketBooks
I don't remeber PocketBook putting their ereaders on sale from their Amazon store last year, but lately they've been doing some sales in the $20-$40 off range. It's hard telling if they'll do anything noteworthy this year but it's worth keeping an eye on their Amazon store for discounts.