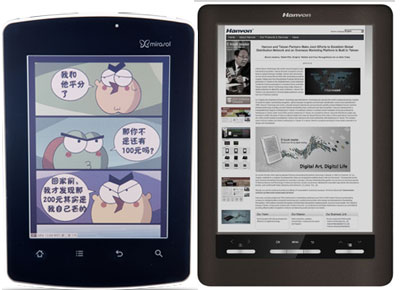 The next obvious step for ebook readers is color. And there are currently three different types of screen technologies trying to bring color to ereaders, Mirasol, color E Ink (Triton), and Pixel Qi.
All three screens differ quite a lot, but there are similarities. Each is meant to be readable outdoors in bright light, each offers color, and all aim to be more energy-efficient than traditional displays.
So the obvious question is: which one is better? Which one is going to win out over the others and become available on your next ereader?
Well, I don't own a Mirasol or color E Ink ereader yet, but I've had a Pixel Qi tablet for about 1 year now (the Notion Ink Adam) and can safely say Pixel Qi is not the answer (here's my Pixel Qi review, comparing it with E Ink and LCD).
The fact that Pixel Qi is readable outdoors in sunlight is a benefit but it has poor viewing angles and is no where near energy-efficient enough to ever be useful for ebook readers. The Adam gets about 5-6 hours of battery life normally and only about 7-9 hours with the backlight turned off entirely. That pales in comparison to color E Ink and Mirasol, both of which can get up to 3 weeks on a charge. Pixel Qi is better suited for tablets than ebook readers.
The race is a lot closer between Mirasol and color E Ink. Like I said, I haven't tested either in person yet, but Nate from over at The Digital Reader posted some pictures, a short video, and some thoughts comparing the two. Here's a quote:
As for me, I could clearly see a difference when I had both screens in front of me.The Mirasol screen had better color quality – but only in the narrow 20% viewing angle. In that small region, Mirasol showed colors that were both stronger and sharper, while the E-ink screen looked distinctly washed out in comparison. But outside that region the color E-ink screen had better color. And of course neither compares well to LCD, but of course we expected that.
Basically it sounds like the Mirasol screen has better color but the viewing angles aren't very good. The color E Ink looks more washed out by comparison but the screen is clearer, especially at angles. There's also the fact that the Mirasol screen has a light. I imagine color E Ink could benefit from something like this LED frontlight too.
Mirasol and color E Ink have been trying to go mainstream for quite a while now, but neither have really caught on. There are a few Mirasol ereaders on the market, none of which are being sold in the US. There are a couple of devices using color E Ink screens, but only one is available in the US, the jetBook Color, and it costs $500 and is mostly aimed at the eduction market.
Perhaps it won't be Mirasol, E Ink, or Pixel Qi on the ereaders of the future. Maybe it will it be something entirely different.
Here are some videos from CES that explain more about Mirasol, E Ink, and Pixel Qi and show them in action.
Mirasol
Color E Ink
Pixel Qi