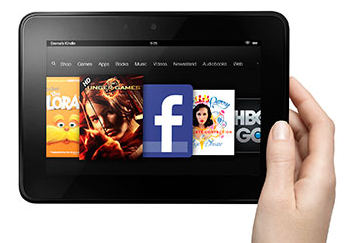 While Barnes and Noble is making their Nook HD tablets more appealing by adding support for Google Play, Amazon is taking the opposite approach by locking down their Kindle Fire tablets even more from outside influences and forcing people to use the custom Kindle interface to keep the cycle of spending more money at Amazon going in full force.
A couple of days ago Amazon started rolling out an automatic firmware update for the 2nd generation Kindle Fire, the 7″ Kindle Fire HD, and the 8.9″ Kindle Fire HD. Here are the links to the respective software update pages at Amazon.
Kindle Fire 2nd Generation: Software Version 10.4.1
Kindle Fire HD 7″: Software Version 7.4.1
Kindle Fire HD 8.9″: Software Version 8.4.1
The two main things this round of updates adds is the option to enable a battery percentage meter in the status bar (the option is available in Settings > Device) and the update makes it so international users can buy apps from the Amazon appstore, which recently went global.
The update also includes the usual "bug fixes and performance improvements" as well as newly-added support for Canadian English and Canadian French (except they forgot to add a Canadian dictionary).
One unfortunate side effect of the new software update is that it has broken wallpapers on alternate homescreens like ADW launcher and Go Launcher. Now it just displays a black background and all my attempts to get a different wallpaper to appear have been thwarted.
First Amazon made it so most alternate launchers wouldn't work at all on the newer Kindle Fire tablets, and now they are seemingly attempting to cripple the few that do work. Amazon is forcing customers to use their custom Kindle interface, which is a shame because compared to other tablets it is very dull, unintuitive, and there are no customization options whatsoever. Not to mention the annoying carousel interface that throws everything on your device into one long confusing list, where items disappear and reappear at random.
Amazon is continuing to remind everyone that this is their tablet, not yours. They want all their products and advertisements at the forefront; your not supposed to be able to think for yourself or setup the device how you want to because Amazon wants to control everything you do with their tablets.