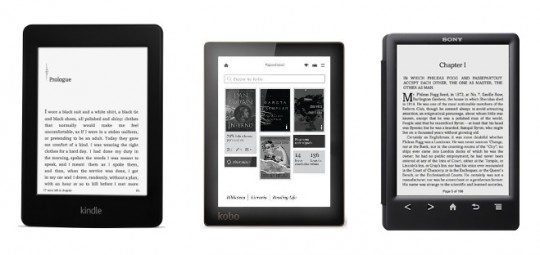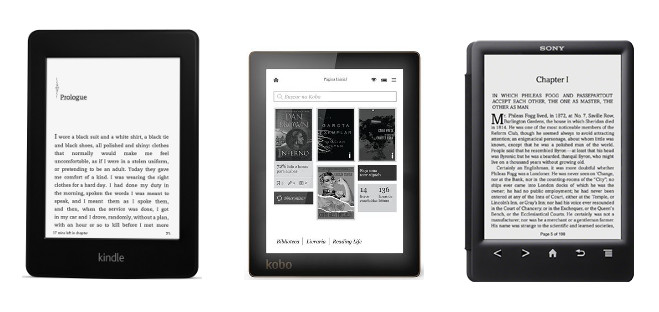 With all the new ebook readers coming out at the same time, it can make it a little harder to choose which one is right for you. Like always, each brand has its unique pluses and minuses to make the decision-making process more difficult (or easier, depending on where you stand).
All three new ebook readers are vying for your attention. So which model do you choose? Or are you planning on getting something else—a tablet maybe—or do you plan on sticking with what you've already got? Or maybe you are waiting to see if Barnes and Noble finally gets around to releasing a new E Ink Nook?
If I had to choose just one of the new ebook readers to go with, that would take awhile to decide.
Between the Kobo Aura and Sony PRS-T3, I feel like the Sony has better software, but the Kobo has a major edge with the frontlight. Both have the same 1024 x 758 HD E Ink screen. Both support ePub and PDF, as well Adobe DRM, so it's pretty much a draw there. Sony Readers are known for having better PDF support than Kobo, and Sony offers more features in regards to note-taking. Kobo has more font adjusting options than Sony, and there are additional features like reading stats and reading awards. Between the two, the frontlight is probably going to be the biggest differentiator for most folks. Sony offers a cover with a built-in light, but that's just not the same; plus they want to charge $50 more for it.
The Kindle Paperwhite 2 on the other hand is the most intriguing of the three new ebook readers released this year. The reason for that is it's the only one of the bunch to use E Ink's latest Carta screen technology. Carta is said to have 50% better contrast than the Pearl screens used on the Sony and Kobo ereaders. Plus Amazon has reportedly improved the evenness and quality of the frontlight.
The Kindle Paperwhite 2 doesn't start shipping until the end of the month, so I haven't been able to see the new Carta screens in person yet. It will be interesting to see how much of a difference there is between Carta and Pearl. When Pearl replaced Vizplex, there really wasn't much of a noticeable difference, so it might not end up being that big of a deal when compared to the Kobo Aura or Sony PRS-T3. Remember, the Kobo Mini uses the older Vizplex screens, and I've never heard anyone complaining that it's too hard to read or the contrast isn't good. It might be the same with Carta screens versus Pearl.
The Kindle, of course, doesn't support ePub so that's going to take it out of the equation for a lot of people. If it did support ePub, it would likely be the best one of the bunch to choose, but that's never going to happen. Amazon and ePub don't mix.
So which new ebook reader do you choose? Or not choose? And why?