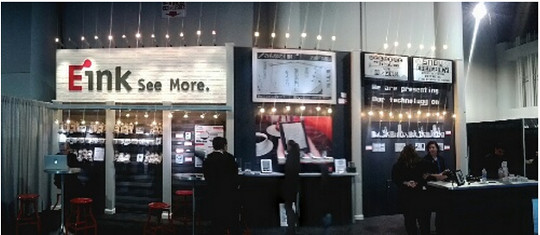 Every year at the Consumer Electronics Show or some other trade show, Charbax from ARMdevices.net posts a detailed video showing the current state of E Ink and the projects the company is working on for the future.
The first device shown in the video is Sony's new DPT-S1 Reader with a 13.3″ Mobius display that is designed specifically for A4-size PDFs. The device sure looks cool, but unfortunately Sony doesn't seem to be very interested in actually selling it to the customers that want it. The rep notes that Sony has already sold through their first production run, so maybe they will get a clue and ramp up production and availability later this year.
The next products shown in the video are some E Ink's smartwatches. E Ink has been showing watches that use their displays for years, but they never really seem to take off. Maybe 2014 will finally be the year that E Ink watches go mainstream.
E Ink is always demoing signage in their videos and this year is no exception. They also have some new clock designs. A couple years ago they had small E Ink displays on Kayaks. This year they have them on an electronic bicycle.
Toward the end of the video there's a quick look at the new Kindle Paperwhite, the Tolino Shine, a Sony Reader, and the Kobo Aura. But oddly there's not much at all mentioned about ebook readers this year. Color E Ink didn't even make any appearance.
E Ink Booth Tour at CES 2014
via: ARMdevices.net