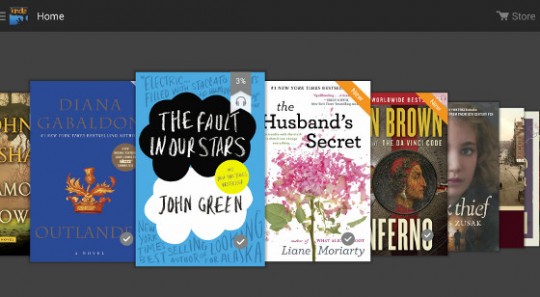 Amazon updated their Kindle for Android app this past week to version 4.11.0, and with it comes a whole slew of changes—it's one of the bigger updates in a long time.
Among the new features, Word Wise has been added to the Kindle Android app. Previously Word Wise was only available on the current lineup of Kindle ereaders.
It's surprising to see Amazon add that feature to Android when it's not even available on Fire tablets yet.
The way Word Wise works is it gives short explanations above challenging words to help readers understand more challenging books. There's a slider you can adjust to show more or less hints depending on your reading level.
I reviewed Word Wise when it first came out. I can see it being helpful for some people, but it's kind of an odd tool. The words it chooses to give hints about seems quite random at times. It will give an explanation for words like notebook and pencil, as if anybody over the age of five doesn't know what those things are, and then in the same sentence it doesn't give suggestions for words like hieroglyphical and obliterated.
Hopefully they've refined the algorithms more since initially launching Word Wise because in it's early state it was more of a comedy reading the suggestions it gives than a useful reading tool.
Other changes with the 4.11.0 update include the addition of an about the book popup at the start of a book (hopefully that can be turned off like on Kindle ereaders because it's really annoying; now they're trying to sell you on related titles at the start of a book in addition to the end).
Popular highlights have also been added to the Android app, which allows you to view the most highlighted sections by other Kindle users. This feature has been around for a really long time; it surprising that it's taken this long for it to be incorporated into the Android app.
Flashcards for textbooks is another new feature that helps users study textbook material. You can also now lookup words with any dictionary, control audiobooks without leaving the page, and navigate manga using a table of contents.
The updated Kindle for Android app is available from the Google Play Store.