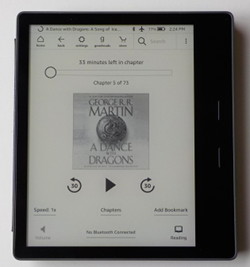 With the release of the Kindle Oasis 2, Amazon brought back support for Audible audiobooks on certain Kindle models.
Kindles used to support audiobooks and MP3 files several generations ago, but with the release of the 1st Kindle Paperwhite in 2012, Amazon opted to drop audio support on Kindles altogether.
Now Audible support is back on select models, which includes the 1st and 2nd gen Kindle Oasis and the entry-level $79 Kindle.
The Kindle Paperwhite and Kindle Voyage both support VoiceView when using an audio adapter, but neither support audiobooks.
The addition of Audible on Kindles is a nice perk, but unfortunately they still don't support Immersion Reading (reading while listening) or text-to-speech like Fire tablets do.
Plus the downside with using a Kindle to play audiobooks is the simple fact that Kindles have small batteries. From my battery life test with the Kindle Oasis 2, it lasted about 8 hours when playing an audiobook. By comparison the $49 Fire tablet can easily double, probably even triple that number on a single charge.
So the question is, now that Kindles support audiobooks again, do you like using a Kindle for that? Or would you rather use a phone, tablet or other device?