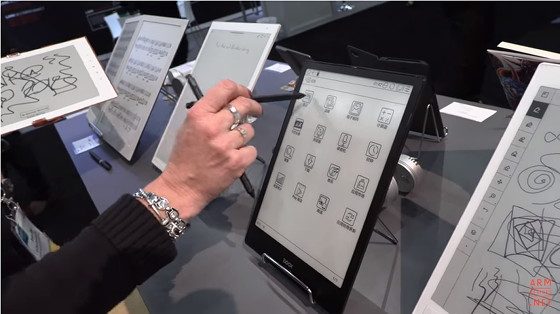 Charbax is back with another video interview showing E Ink's current range of products at this year's Display Week convention in Los Angeles.
Not much has changed since the last time we saw E Ink demo their electrophoretic displays at a trade show, but they cover a wide range of products in this video.
Flexible displays continue to progress with several 10.3-inch E Ink ereaders and notebooks hitting the market with devices like the Onyx Boox Note and Sony DPT-CP1.
They also have foldable screens for more of a tradition book-like concept.
Dual-screen E Ink devices like the Gvido specialize in displaying sheet music for musicians.
It's interesting how E Ink has seemingly shelved the idea of producing color displays for ereaders. Even when specifically asked if their new 13.3-inch color displays could be used for ereaders, they say they're focusing on the digital signage market for now.
The ACeP color displays look good from a distance, but up close for reading they're probably not good enough to compete with LCD.
They also shows off some autonomous E Ink tiles that are solar-powered like the ones they installed at the San Diego airport last year.
There's a Sony watch on display with E Ink on the bands as well as the screen.
They have some new organic TFT displays with more durable backplanes designed by Flexterra.
New battery-less shelf labels are shown, along with red and yellow E Ink shelf labels that stand out a lot more than regular shelf labels. More E Ink products are shown in the video below.
E Ink at SID Display Week 2018