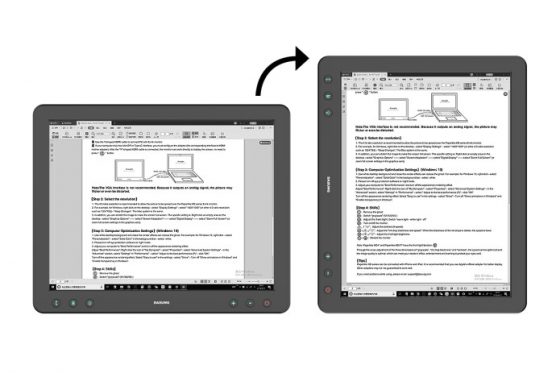 Dasung has released several E Ink monitors over the past few years, along with the smaller Not eReader earlier this year, and now they've launched another crowdfunding campaign for their latest line of E Ink monitors that feature touchscreens and frontlights.
Dasung is accepting orders for four different versions of their new Paperlike E Ink monitors from the Indiegogo website.
There's the Paperlike Pro with the option for a frontlight and a touchscreen, or just a frontlight only.
A tier higher is the Paperlike HD with a higher resolution screen, also available with a frontlight and a touchscreen or just a frontlight only.
All have 13.3-inch E Ink screens, and the frontlights have both warm and cool color temperatures.
The Pro models have a resolution of 1600 x 1200, which equates to 150 ppi. The HD models have 2200 x 1650 resolution screens with 207 ppi.
Like usual Dasung's E Ink monitors are shockingly expensive, but these are being discounted by up to 30% off for early orders.
Dasung's refresh rate is impressive, likely the best in the E Ink business. Their monitors connect via HDMI and they support PC and Mac computers, as well as iPhones and iPads, and apparently some Android devices.
Dasung Paperlike HD-FT