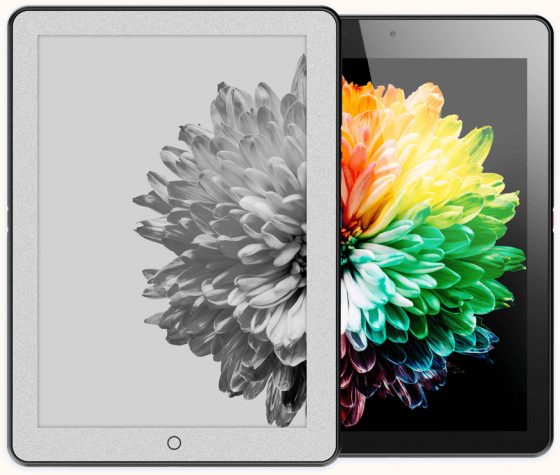 It looks like the makers of the new 10.3-inch E Ink E-Pad tablet that's available on Indiegogo right now already have a new project in the works.
EeWrite is looking to be the first company to release a dual screen tablet with a color LCD screen on one side and a monochrome E Ink screen on the other side.
They're calling it the E-Pad X.
There have been a few E Ink phones that have an E Ink screen on the back, like the Hisense A6, but there haven't been any tablets with E Ink screens yet.
A few devices have tried combining LCD and E Ink in flip form, like the Lenovo Yoga Book C930, for a 2-in-1 approach, but the E-Pad X would do away with the hinge and combine them into a single unit.
The EeWrite E-Pad X is expected to have a 9.7-inch LCD screen with a resolution of 2048 x 1536. Unfortunately it sounds like they are going to go the cheap route on the E Ink screen. Apparently they're going to use a low resolution 9.7-inch screen with 150 ppi instead of the 10.3-inch display with 227 ppi that's on the E-Pad.
The E Ink side has a Wacom touchscreen for notes and drawings. The tablet has a microSD card slot and USB-C port. It has a 6-core processor with 2GB of RAM and 32GB of storage space. It has a 5,000 mAh battery.
One interesting thing to note, there's a button to switch between the LCD screen and E Ink screen—you can only use one at a time.
At this point it looks like they basically glued an ereader to the back of a tablet, but it's not a final product yet and they are expected to try and make it thinner and lighter.
EeWrite E-Pad X Dual Screen Tablet