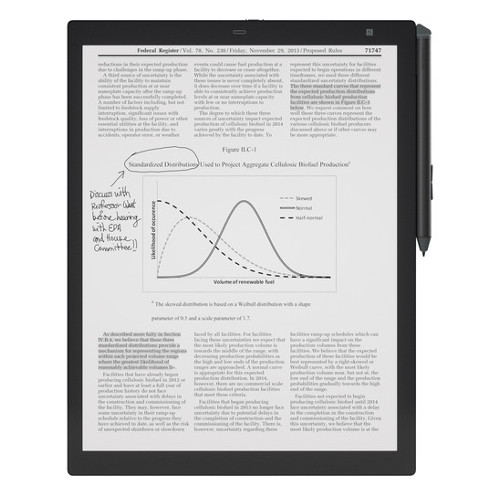 Sony's specialized Digital Paper PDF readers are on sale again at $100 off the regular prices. They seem to go on sale every few months; at this point they should consider making the price drop permanent with all the newer models coming out lately with more features.
The sale includes the 13.3-inch Sony DPT-RP1, both black and white models, and the 10.3-inch Sony DPT-CP1.
The sale price of the Sony DPT-CP1 is $498 and the sale price of the Sony DPT-RP1 is $598.
Sony's DPT devices have really nice hardware and the build quality is excellent, but the software is rather basic and unlike other large ereaders these only support PDF format.
Sony just issued a software update last month to add some new features, including table of contents support and the ability to jump to specific pages, but the software is still a lot less capable than what you get with an Onyx device or even the Likebook Mimas.
See my Sony DPT-CP1 review from last year for a closer look at the software in action, minus the new update of course.
For some annoying reason Sony's devices now have separate pages at Amazon instead of a single listing with multiple options. Here are the links to each model:
Sony DPT-CP1 – $498
Sony DPT-RP1 – $598
Sony DPT-RP1 (white) – $599