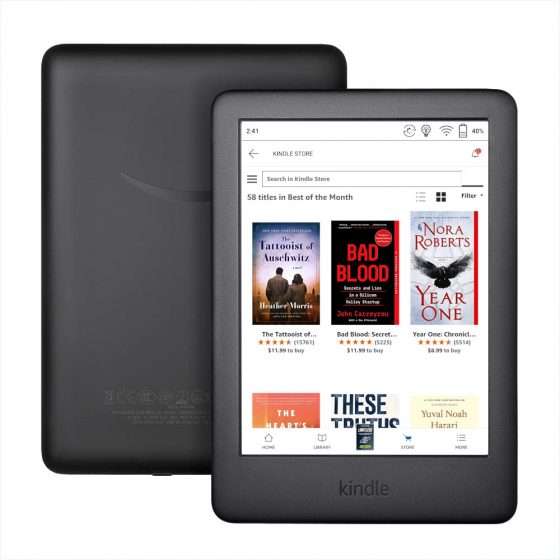 Yesterday I posted a review of E Ink's new color screens that have started appearing on a few new ereaders such as the Onyx Poke2 Color and PocketBook Color.
Ever since these new color ereaders have started coming out, people have been hoping that a color Kindle would be coming out soon too, but now that I've seen color E Ink in person, I strongly believe that Amazon won't be adopting E Ink's new color screen technology anytime soon, if ever.
I think E Ink's new color screens are pretty cool, and I like having an ereader that has one, but the technology has some flaws.
Unless E Ink finds a way to lessen the visibility of the color filter layer, I would say there's less than a 10% chance that Amazon will release a color Kindle in the next 5 years.
I think the return rate would simply be too high. The average person is going to question why an E Ink screen is better for color content than a typical LCD screen, especially when an E Ink screen costs a lot more and LCD looks a lot better.
Amazon isn't the type of company to take big chances with Kindles. Kindles are simple devices designed for reading ebooks. They've never been about adding cutting-edge new features.
It took Amazon three years just to add a warm frontlight option to the Kindle Oasis when all other brands had been offering warm frontlights for years.
Since regular Kindles are still superior at displaying text, how would they even market a color Kindle? It can't be a premium device, but color E Ink has a premium price tag. Are they only going to market it as a comic and magazine reader? That doesn't make any sense. Most people are happy reading comics and magazines on a tablet.
A Kindle's primary purpose is displaying text, not images.
The vast majority of Kindle owners use the device to read ebooks. Even the entry-level Kindle with just 167 ppi provides a better text reading experience without the added darkness and visible grid pattern the color filter adds to color E Ink.
There's also the fact that any cheap tablet, including the $49 Fire tablet, is better at displaying color content than a low resolution color E Ink screen. As much as I like E Ink and hate the $49 Fire tablet, it's not even close.
I still think there would be a larger market for a Kindle with a 10-inch screen than there would be for a color Kindle. Since color screens have noticeably worse contrast and screen clarity they are inferior at displaying regular text, so they're going to appeal to a much smaller market, whereas a large screen still fulfills the core purpose of a Kindle, which is to provide the best reading experience.
Sorry, but I just don't see a color Kindle coming anytime soon. If you want a color Kindle your best bet is to get an Onyx Poke2 Color and install the Kindle app. That's the only way a color E Ink Kindle is going to happen.